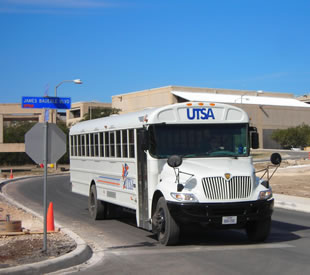 UTSA shuttle bus (Photo by Jane Wilcox)
Students vote Oct. 9-10 on transportation fee
By Shelley Kilpatrick
Student Writer, College of Liberal and Fine Arts
(Oct. 5, 2007)--A special election on a transportation fee initiative is Oct. 9-10. UTSA students are encouraged to vote on the important initiative.
View a video about the "Hop on Board" transportation initiative (RealPlayer format).
---
Today's headlines
Article tools
---
Sponsored by the student organization, Students for Transportation Reform, the goal is to add a transportation fee to enrollment fees, which would provide funding for additional shuttle service to apartment complexes near UTSA, supplement on-campus shuttle services, reduce the cost of most student parking permits and relieve parking congestion.
Students can vote online at the ASAP information system site from 12:01 a.m., Tuesday, Oct. 9 to 11:59 p.m., Wednesday, Oct. 10.
Results will be announced outside the Office of Student Activities, University Center Suite 1.02.08, 1604 Campus at 3 p.m., Thursday, Oct. 11. Additionally, the election results will be posted outside the office.
For more information or voting assistance, call the Office of Student Activities at (210) 458-4160.
-----------------------------------------
Q&A: Proposed transportation fee
A. How much is the parking and transportation fee now?
A. Now there is no transportation fee with the cost of tuition. Parking fees pay for the current shuttle service.
Q. How much will the transportation fee be, if the initiative passes?
A. There would be a $20 fee each semester. The cost of the fee translates to 17 cents per day.
Q. Would it be phased in or all at once?
A. It would be all at once and could not be raised again without a student vote.
Q. If it does pass, will it also have to be approved by the UT System Board of Regents before it can go into affect?
A. Yes, and it already has Texas Legislature approval.
Q. When will the fee go into affect?
A. If the students vote yes, it will go into affect in Fall 2008.
Q. Will permit prices increase later after the first-time reduction for Fall 2008?
It is expected that the implementation of a transportation fee would alleviate some parking problems and reduce the need for new lots and increased prices.
Q. What if the fee is implemented and the surrounding apartment complex residents don't utilize the new shuttle service?
A. Most students say they don't ride the shuttle because it takes too long for it to come. By assessing the fee, more shuttles could be added, which would cut down on wait time. Improved shuttle service should encourage more riding because students would be able to get to classes faster by riding than by driving to campus.
Q. How many buses can you add the first year?
A. Two buses and two new routes to apartment complexes could be added.
Q. Why can't we just get the apartment complexes to pay?
A. Apartment management companies say the shuttle service is needed, but view it as something the university should pay for.
Q. Why isn't a subsidy used, and why doesn't the university pay for it out of current funding?
A. The UT System requires that parking services operates as an auxiliary service, which means it must be self-supporting.
Q. Why not just charge students who are not purchasing permits?
A. There is no system that allows the university to assess a fee only to students who do not purchase a permit. Assessing a fee to all students is the only way to capture the non-permit holders. However, the fee should encourage non-permit holders to ride to campus, which would free up parking spaces for commuters.