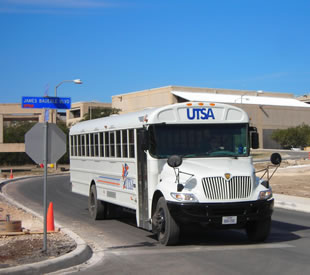 UTSA shuttle bus (Photo by Jane Wilcox)
UTSA students approve transportation fee
By Tim Brownlee
Assistant Director of Public Affairs
(Oct. 12, 2007)--UTSA students voted Oct. 9-10 to approve the Fall 2008 addition of a transportation fee to enrollment fees. Thirteen percent of UTSA students (3,889 of 28,688) voted on the initiative with 2,062 (53 percent) voting yes and 1,827 (47 percent) voting no. The initiative will go to UTSA administration and then the UT System Board of Regents for final approval.
---
Today's headlines
Article tools
---
Will Greider, Student Government Association (SGA) chief justice of the judicial commission, announced the results of the special election at 3 p.m. Oct. 11 at the Office of Student Activities in the University Center on the UTSA 1604 Campus.
The new fee would fund additional shuttle service to apartment complexes near UTSA, supplement on-campus shuttle services, reduce the cost of most student parking permits and relieve parking congestion on the rapidly growing 1604 Campus.
The transportation initiative, called Hop on Board, was sponsored by the registered student organization, Students for Transportation Reform. According to the SGA constitution, at least 3 percent of UTSA students must sign a petition on a particular issue to establish a student vote. The initiative was publicized through forums, Facebook, signs at campus entrances, fliers and Lonestar student e-mails, along with stories in The Paisano (student newspaper), San Antonio Express-News and UTSA Today.