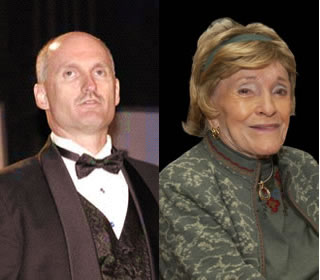 Honorees David A. Spencer and Irene Stimson Wischer
President's Scholarship and Awards Dinner raises $4.6M
By Marianne McBride Lewis
Director of Public Affairs
(Oct. 25, 2007)--More than 750 friends of The University of Texas at San Antonio attended the annual President's Scholarship and Awards Dinner on Oct. 23, an event that honored two remarkable South Texans and raised a record $4,595,600 for student scholarships and other academic programs. It surpassed last year's record total of $3.1 million.
---
Today's headlines
Article tools
---
Several groups of student musicians greeted guests as they arrived for the festive black-tie affair to the sounds of classical guitar, string quartet and the voices of the UTSA Madrigal Singers while event chairs UTSA President Ricardo Romo and Dr. Harriett Romo and event co-chairs John T. Montford, AT&T Inc. senior vice president - western region legislative and regulatory affairs, and Kenny Wilson, Bank of America regional president, visited with friends, donors, students and members of the Texas Legislature.
Honored at the dinner were business and civic entrepreneur David A. Spencer and his wife, UTSA alumna Jennifer Spencer, who recently funded a distinguished chair for the dean of the UTSA College of Engineering with a $1 million gift to the university. Spencer was presented the Tom C. Frost Award, established to honor an outstanding citizen who has provided exceptional leadership to important business and community endeavors.
"It is an honor for me to stand here and thank David Spencer for all he has done, not only for our students at UTSA, but also for the San Antonio community," said Romo. "David is an energetic and dynamic individual, an inspirational leader, and an example of what can happen when youth and education meet opportunity."
Spencer has been an active participant in charitable, business, academic, entrepreneurial, public policy and technology economic development organizations since 1990. His entrepreneurial career took off in 1996 when he co-founded OnBoard Software Inc., which achieved $17 million in annual revenue in eight years. In 2005, Gov. Rick Perry appointed him inaugural chair of the Emerging Technology Fund advisory committee, a $200 million investment and company formation fund.
Honored posthumously at the dinner was Irene Stimson Wischer, an oil and gas industry pioneer and philanthropist who died this year at the age 91. Wischer was recognized with the Gold Star Award, presented each year to an individual or organization that has forged extensive partnerships with the university and supported UTSA students and faculty in extraordinary ways.
"Anyone who knew Irene knew she was a lady of great compassion and strong character. She was a firm believer in education and proudly served on the development board for UTSA's Institute of Texan Cultures," said Romo. "I am honored tonight to announce a scholarship will be created in her name as a lasting legacy to her generosity."
Wischer was a lifelong supporter of community, education and charitable organizations. Beginning as a secretary at the oil and gas firm, Henderson Trust Co., she became a director by 1955 and was Panhandle Producing Co. chairman and CEO in 1963. During her long and remarkable career in the oil and gas industry, she received many honors, including being first woman named Chief Roughneck of the Year by Lone Star Steel.
Additionally, Romo thanked several other generous donors for their support for UTSA, its students and its mission.
Event co-chair John T. Montford accepted thanks for the AT&T Foundation gift of $1.5 million, given to create and fund the interactive Technology Experience Center (iTEC) in the College of Engineering. The center will foster AT&T's educational outreach mission in partnership with UTSA graduate students, who will introduce local and regional middle and high school students to the field of engineering communication technology.
Bill Greehey, chairman of the board of NuStar Energy, accepted thanks on behalf of the Greehey Family Foundation as they were recognized for their gift of $1 million, given to UTSA to establish an endowment for student scholarships.
Also honored were members of the university's donor societies, the President's Associates, Sombrilla Society and Lone Star Society, as well as individual donors from the past year.
Other gifts recognized were $250,000 from The Zachry Foundation to create a distinguished professorship in the College of Engineering, $200,000 from The Tobin Foundation for the Margaret Batts Tobin Distinguished Chair in Biotechnology, $100,000 from Leo Block for student scholarships and $100,000 from the Armed Forces Communication and Electronics Association for technology scholarships.