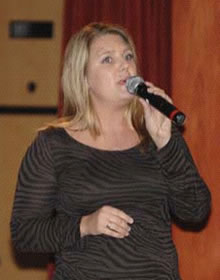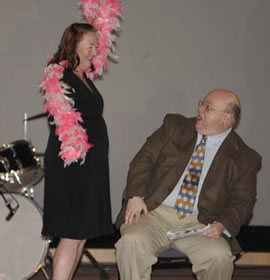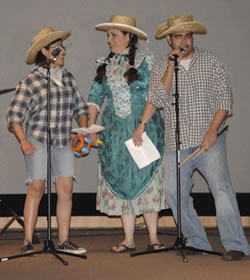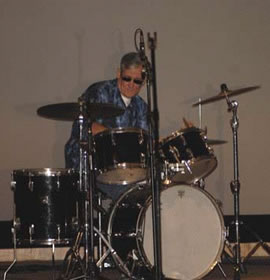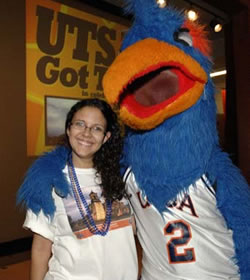 Photo gallery from "UTSA's Got Talent" (Photos by Mark McClendon)
See a video of the talent show (RealPlayer)
Crowd-pleasing talent show rewards SECC givers
By Lynn Gosnell
Special Projects Writer
(Oct. 24, 2007)--The UTSA community proved they indeed have talent with the first-ever "UTSA's Got Talent" show presented Friday, Oct. 19 in celebration of the 2007 State Employee Charitable Campaign (SECC).
More than 300 staff and faculty members turned out for the live event performed in the Business Building Richard Liu Auditorium on the 1604 Campus with live video feeds to the Downtown Campus and Institute of Texan Cultures. Admission to "UTSA's Got Talent" was a contribution to SECC. (And, to give other UTSA employees more time to turn in donation forms, the campaign is extended through Oct. 31.)
"I loved participating in the show," said Anne Englert, assistant director of student relations in the UTSA Office of Alumni Programs. "It was wonderful to see so many of my co-workers from across campus having fun showing us their talents. I especially liked Pauly and JJ the Great. Now that's magic! Of course, it was all for a good cause and helped unite UTSA employees in helping the community. I can't wait for next year!"
A highlight of the nine original acts included some spirited singing by President Ricardo Romo accompanied by UTSA's own Mariachis Los Paisanos. Emcee Rick Cavender, a United Way board member, did double duty by performing "Doing What Matters Most," the song he wrote for the 2006 Bexar County United Way Campaign. There also were hip-hop dancers, a musical chorus line, hillbilly and country singers, and a drum solo by Kerry Kennedy, vice president for business affairs, among other performances.
"Response and audience appreciation was so positive that UTSA staff members are discussing making this an annual event," said Jennifer Storm, assistant director of external affairs in the Office of the President and SECC committee member.
Additionally, campus SECC chairperson Albert Carrisalez, assistant to the president and director for external affairs, announced an extension of this year's campaign.
"We're having a lot of fun and raising funds for some great causes, but we're not ready to stop yet, so we're extending the campaign through October 31," Carrisalez said. "We want to beat last year's 62 percent participation rate, so if you haven't sent in your donation form -- now is the time."
The annual SECC benefits more than 300 nonprofit organizations.
For more information, call (210) 458-5136.