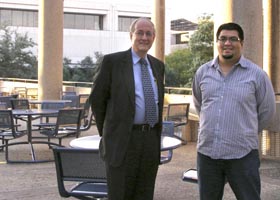 Top: David R. Johnson and Marco De Leon
Bottom: Students study at new seating area.
New seating installed outside 1604 Campus library
By Marianne McBride Lewis
Director of Public Affairs
(Nov. 26, 2007)--Thanks to a suggestion by a library staff member, UTSA community members now can enjoy new tables and seating on the patio overlooking Sombrilla Plaza on the 1604 Campus.
Library assistant Marco De Leon submitted his suggestion last spring to David R. Johnson, interim dean of the library and vice provost for academic and faculty support. Johnson decided the idea had merit and immediately began to investigate new seating options.
---
Today's headlines
Article tools
---
Working closely with Daniel Sibley, UTSA director for space utilization, the furniture was selected and a plan was created for placement of the tables. The tables were purchased with library funds and delivered in late September.
With the support of the UTSA Facilities Services staff, the tables were assembled and installed the first week in October.
Overlooking Sombrilla Plaza, the traffic flow on the patio is not as heavy as that on the level below, making it a good choice for a seating area. Users enjoy the splashing of the fountain and a view of the surrounding campus.
If you haven't had the chance to see or use the new furniture, consider taking your next break out on the patio.