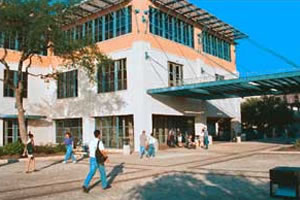 Business Building, UTSA 1604 Campus
BusinessWeek ranks M.B.A. third in Southwest
By Wendy Frost
Director of Communications, UTSA College of Business
(Nov. 5, 2007)--BusinessWeek ranked The UTSA College of Business one of the top three part-time M.B.A. programs in the Southwest in its annual business school rankings edition. Nationally, the UTSA College of Business part-time M.B.A. program is ranked 26th.
"We are honored to be included in BusinessWeek's inaugural ranking of Flex M.B.A. programs," said Lynda de la Viña, dean of the UTSA College of Business. "With more than 60 percent of graduate business students nationwide taking courses in the evening or weekends, this is a monumental step in recognizing the nature of M.B.A. programs today. The ranking reflects the quality of our academic programs and the level of services we provide our students."
---
Today's headlines
Article tools
---
Schools included in the Southwest regional ranking were University of Denver (1), Southern Methodist University (2), University of Texas at San Antonio (3), University of Houston (4), and University of Texas at Austin (5).
The UTSA College of Business (COB) offers a portfolio of 26 graduate business programs that are known for their high quality and affordability including the M.B.A., M.B.A. International, Noon M.B.A., Online M.B.A. and Executive M.B.A. Enrolling more than 690 graduate students, COB enrollment is diverse with 72 percent of students attending part time, 40 percent women and 26 percent Hispanics.
BusinessWeek ranked the top five part-time M.B.A. programs in six geographic regions. The magazine used three measures to compile the rankings. First, a student survey was sent to part-time M.B.A. students to measure general student satisfaction. Second, academic quality was assessed based on six equally weighted measures: average G.M.A.T. score, average work experience, percentage of tenured faculty teaching in the program, average class size, number of business electives available to part-time M.B.A. students and the program's completion rate. Third, post-M.B.A. outcomes such as advancement in current position, new job and attainment of career goals were determined based on survey responses.
The UTSA College of Business is accredited by AACSB International, The Association to Advance Collegiate Schools of Business, placing the college in the top 10 percent of business schools worldwide. It is one of the 40 largest business schools in the nation with 6,000 enrolled students.
COB also was named one of the top 10 M.B.A. programs for minorities by the Princeton Review, one of the 15 largest minority M.B.A. programs by U.S. News and World Report and ranks second in the nation for the number of undergraduate business degrees awarded to Hispanics according to Hispanic Outlook magazine. The college is dedicated to raising its academic profile to become one of the best business schools recognized for developing "Knowledge for a New World."
For more information, visit the UTSA College of Business Web site or call (210) 458-4313.