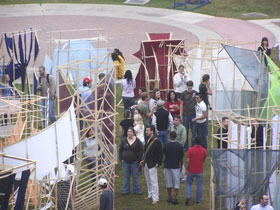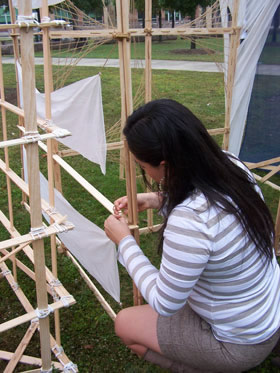 UTSA architecture students work on design projects
Architecture students walk through designs they built
ByJames Benavides
Public Affairs Specialist
(Nov. 19, 2007)--As their final semester project, 35 teams of UTSA Design I students had the opportunity to walk into projects they designed and built. The Design I course led to these assignments that will be on display Monday, Nov. 19, at Bill Miller Plaza on the UTSA Downtown Campus.
---
Today's headlines
Article tools
---
"We want to give our students the experience of walking into something they designed and built themselves," said Stephen Temple, UTSA associate professor of architecture. "The primary learning objective for this semester's project is to explore the concept of passage. Passing between inside and outside is basic to all architectural experiences."
Over the last three weeks in the studio, teams perfected designs that evoke emotions or sensations in those who pass through the entryways. The building materials were limited to eight-foot wood lathe strips, a single binding material and a single sheer fabric of their choice.
"The first semester is experiential," said Temple. "It's about what you can see, touch, experience and learn. Design II is representational and conceptual. We do more drawings. We hope that the students can take what they learned this first semester into the studio with them next semester. We want them to get away from the notion that every room is a rectangle."