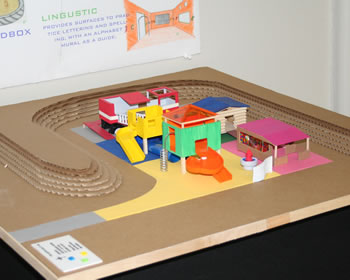 Top: Playground design by Fabian Mancha, Pedro Rodriguez and Edith
Salinas; Bottom: Playground design by Tiffany Calvin, Robert Jaster and
Kate Rodgers (Photos by Amal Bassou, UTSA BOA CAPRI)
UTSA architecture students redesign child center
By James Benavides
Public Affairs Specialist
(Nov. 8, 2007)--Three UTSA College of Architecture teams recently were selected to present their visions for the Jose Cardenas Early Childhood Development Center to the Edgewood School Board. Thanks to a grant secured by Harriett Romo, director of the UTSA Bank of America Child and Adolescent Policy Research Institute (CAPRI), the facility will receive needed upgrades, including a new façade and possibly a playground.
Romo led a jury, including representatives from UTSA's College of Architecture, United Way and USAA in a review of more than 20 models. The review led to a three-way tie between teams including Pedro Rodriguez, Edith Salinas and Fabian Mancha; Robert Jaster, Tiffany Calvin and Kate Rodgers; and Rebekka Kotzur, Marisol Romero and Jeremy Herrod.
---
Today's headlines
Article tools
---
Enrolled in Architecture Design I, the students received UTSA Honor Awards and gift certificates to Asel Art Supply, along with a chance for their projects to be implemented in the renovation project at the Cardenas center.
"Our students have realized that they're not working with buildings, but with people," said Jon Thompson, associate professor of architecture, who helped coordinate the project. "This gave them the opportunity to work with a very enthusiastic part of the population -- kids."
The models explored how children interact with their surroundings. Some winning elements included various types of playhouses on the playground, each encouraging a different kind of learning. Others stressed the importance of play as learning through exploration and the health benefits of play as exercise.
Romo was the principal researcher on the proposal that won a Hispanic Serving Institutions Assisting Communities grant in 2005 valued at $250,000. In addition to the design project, the grant has facilitated numerous early childhood development research fellowships and independent studies in architecture, creating this educational opportunity for students from early childhood through college.