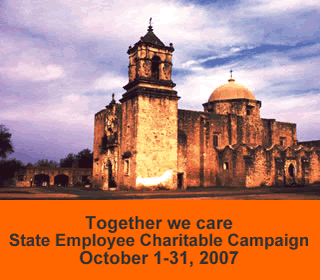 UTSA announces state employee charitable campaign results
(Nov. 19, 2007)--The UTSA Office of External Affairs has announced the results of UTSA's 2007 State Employee Charitable Campaign. For the 2007 campaign, UTSA faculty and staff pledged more than $224,000 to SECC. UTSA broke its participation record with a 70-percent employee participation rate -- an 8 percent increase over last year's participation rate.
"The numbers demonstrate that UTSA staff and faculty are both generous and caring. I'm proud of our campus for responding to the community and beyond" said UTSA President Ricardo Romo.
The SECC benefits some 103 local nonprofit agencies that provide social, health, environmental, arts and education services San Antonians.
"A big thanks goes out to the many UTSA volunteers who invested countless hours, time, and energy in making the campaign fun, in building awareness, organizing events, and hosting the first ever "UTSA's Got Talent" performance," said Albert Carrisalez, UTSA director of external affairs. "Also special thanks goes to the 200 plus Area Champions who handed out and collected all the pledge forms. You all rock."
Many UTSA families benefit from organizations supported by the SECC. And many UTSA family members are involved in these agencies in one way or another.
For example:
Thank you to everyone at UTSA who participated in the campaign, to all the Area Champions and members of the planning committee, thanks for opening your hearts and for making UTSA a proud member of the community.