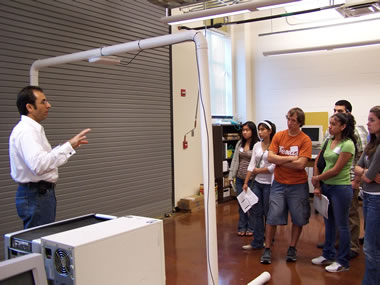 Associate Professor Can Saygin shows San Antonio high school students a
research lab in the UTSA Center for Advanced Manufacturing and Lean Systems.
(Photo by Kris Rodriguez)
Engineering college awarded $500K defense grant
By Kris Rodriguez
Public Affairs Specialist
(Nov. 14, 2007)--The UTSA College of Engineering was awarded a $500,000 grant from the Department of Defense to build and support new research laboratories in manufacturing engineering. The grant will enhance the research infrastructure of the new UTSA Center for Advanced Manufacturing and Lean Systems, which was established last spring.
Leading the UTSA team of investigators is Frank Chen, UTSA Lutcher Brown Distinguished Chair in Advanced Manufacturing, and Can Saygin, UTSA associate professor of mechanical engineering.
---
Today's headlines
Article tools
---
"We feel UTSA's new Center for Advanced Manufacturing and Lean Systems will attract more federal funding as well as help local communities to build up their manufacturing business and assist our manufacturing industries around San Antonio and South Texas," said Chen, director of the center. "We are looking at radio frequency identification system technologies which are gaining popularity and in some cases are being mandated for suppliers to use as part of their required supplier qualification systems."
The center will serve as a unique source of expertise in flexible and lean technologies and systems and state-of-the-art technology applications in manufacturing, service and defense industries. The goal is to work with industrial partners and assist with their manufacturing and system needs.
In addition to benefiting its industrial partners, the center will aid the continuing expansion of engineering master's degree programs and students will gain experience and knowledge to solidify their potential to become leading minds in the field of engineering.
One of the nation's leading producers of Hispanic engineers, the UTSA College of Engineering offers high-quality doctoral, master's and ABET-accredited bachelor's degree programs. The college's four departments -- Biomedical Engineering, Civil and Environmental Engineering, Electrical and Computer Engineering, and Mechanical Engineering --have prepared thousands of graduates for successful careers in the public and private sectors and higher education. Over the last five years, the college has seen a 90-percent increase in enrollment with more than 2,000 undergraduate and graduate students.