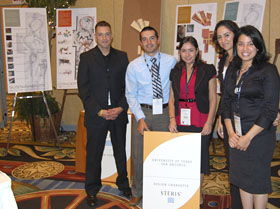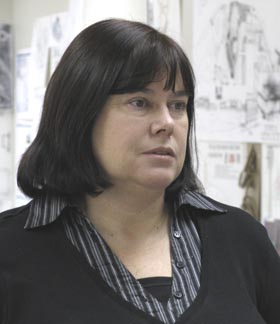 UTSA architecture students explore architecture for community health
By James Benavides
Public Affairs Specialist
(Nov. 29, 2007)--Five UTSA Architecture students recently had an opportunity to design a community healthcare facility in a span of 48-hours. The challenge was part of the 2007 Healthcare Design Conference held in Dallas and co-sponsored by the American Institute of Architects Academy of Architecture for Health and the Center for Health Design.
"The design of healthcare and healthy environments will take on greater importance in the next couple of decades due to an aging population and increasing stresses on our natural and built environments," said Gayle Nicoll, UTSA associate professor of architecture.
Nicoll, who is developing a UTSA certificate program in healthcare and wellness design, served as an advisor to UTSA's five-person team including seniors Lucia Terrazas and Dean Wiederstein and graduate students Samira Ahmadi, Rebekah Negrete and Miguel Saldaa.
The conference's Student Design Charrette, sponsored by the AIA Academy of Architecture for Health and the STERIS Corporation, a medical supplier who funded the College of Architecture team with a $5,000 grant, created an opportunity for the students to conceptualize a clinical setting that impacted the health of individuals, the community and the ecosystem.
There was no ranking or reward in the process. Rather than spur competition, the AIA academy and STERIS intended to stimulate creative inquiry, innovative ideas and interaction between students, faculty and design professionals.
In their overview of the design charrette, The AIA academy and STERIS acknowledged that in order to advance the broader healthcare needs of the community, healthcare architecture must rise above the old concept of a medical clinic. To gain perspective on innovations in architecture for healthcare, the students visited the new Parkland Health and Hospital Systems Community Clinic in Irving and toured the offices of experienced healthcare design firm RTKL Architects in downtown Dallas.
Implementing their new knowledge and experience, the UTSA team designed a campus that combined the features of a primary care facility with community health promotion capabilities including a nature trail for fitness needs and staging areas for community health functions such as vaccination drives or disaster relief efforts.
"The UTSA students developed an appealing conceptual design for a facility that integrated two important but often disconnected aspects of a healthy environment," said Nicoll, "access to community-level healthcare and health promotion facilities."