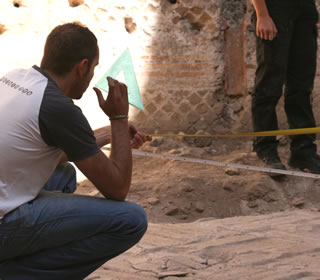 Top: Romolo Martemucci
Bottom: Martemucci's students survey Hadrian's villa in Tivoli, Italy
Expert discusses progress, preservation balance
By James Benavides
Public Affairs Specialist
(Nov. 5, 2007)--The UTSA College of Architecture will present Romolo Martemucci, AIA and professor of architecture at Penn State, in a forum at 5 p.m., Wednesday, Nov. 7 in the Monterey Building Architecture Gallery (1.108), Downtown Campus.
Martemucci will discuss preservation and practices for construction in an archeological situation. His remarks are based on his recent paper, "Architecture for the Admirable Art of Archeology or Tracing Tactile Thought in the Marking of Architecture."
---
Today's headlines
Article tools
---
Anytime a building project gets underway in Rome and its outlying urban zone, there is a significant chance of the construction site becoming an archeological site. As construction, improvement and redevelopment continue in San Antonio, particularly in the downtown area and on the River North expansion, the city could encounter similar scenarios.
"Architectural sites always include traces of past human intervention," said Martemucci. "Archeological sites offer a helpful laboratory for the understanding of how meaning is analyzed, understood and represented through the mental and physical interpretation of the traces of the past."
A member of the American Institute of Architects, Martemucci is director of the Sede de Roma, Penn State's architecture program in Rome, Italy. He has studied and conducted projects for the Italian cities of Siena, Matera, Tursi, Atri, Tivoli and the Tuscan city of Quarrata.
For more information, call (210) 458-3010.