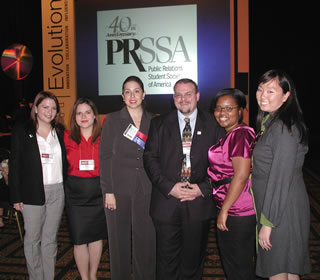 From left are UTSA PRSSA members Mitzi Wallace, Nicte Hayes,
Sarah Ceballos, Gregory Frieden, Cassandra Miranda and Teresa
Lin at the recent awards ceremony in Philadelphia.
UTSA alumna, student win national PR honors
(Nov. 14, 2007)--Cassandra Miranda and Gregory Frieden of UTSA's Steven R. Levitt Chapter of the Public Relations Student Society of America (PRSSA), were recognized for their dedication to the UTSA chapter and the national organization at the 40th anniversary awards ceremony and banquet at the PRSSA 2007 National Conference in Philadelphia.
Cassandra Miranda, UTSA 2001 communication graduate, received the Hall of Fame Award and UTSA Chapter President Gregory Frieden was honored with the 2007 PRSSA National President's Citation.
---
Today's headlines
Article tools
---
To celebrate the success and progress of PRSSA and to acknowledge the contributions PRSSA alumni have made to the public relations profession, the national committee created the Hall of Fame Award, which is presented annually to a former PRSSA member. Award recipients have built distinguished careers in public relations and continue to contribute to public relations education through PRSSA involvement.
The National President's Citation was created to honor members who exhibit excellence in public relations, university service, community activities and professional development. A diverse group of students makes PRSSA the nation's preeminent pre-professional public relations organization. Many of the members go beyond expected service to the society by contributing nationally or to local chapters.
Frieden was chapter president from April 2006 to August 2007 and previously served as secretary. He is a member of the 2007 PRSSA National Subcommittee for Internships and Job Services. He is a communication senior with a dual major in public relations and technical communication.
Steven Levitt, associate professor and chair of the UTSA Department of Communication and PRSSA faculty adviser, and Gregory Frieden nominated Miranda. Miranda has been a professional adviser to the chapter since April 2006 and served as the chapter's director of public relations during her UTSA undergraduate studies. She has been instrumental in the group continuing to move forward with its goals and objectives. She recently moved to Houston to take a position in strategic communications with the NASA Johnson Space Center after working for the American Heart Association in San Antonio.
The Public Relations Society of America, headquartered in New York City, is the world's largest organization for public relations professionals with nearly 32,000 professional and student members. PRSA has 109 chapters nationwide and 20 professional-interest sections and affinity groups that represent business and industry, counseling firms, independent practitioners, military, government, associations, hospitals, schools, professional services firms and nonprofit organizations.
The Public Relations Student Society of America (PRSSA) has 285 chapters at colleges and universities throughout the United States. The UTSA chapter won two national chapter awards in 2000 and another in 2001.