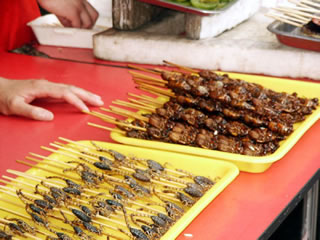 'Taste of Diversity' to offer international foods
By James Benavides
Public Affairs Specialist
(Nov. 6, 2007)--As part of UTSA Diversity Month, the Downtown Campus will present the second annual "A Taste of Diversity" -- an opportunity to sample the foods of various cultures from 11 a.m. to 1 p.m., Thursday, Nov. 8 in the Buena Vista Street Building Assembly Room (1.338).
UTSA faculty, staff, students and organizations are invited to share their heritage through food. Notable dishes at last year's celebration were Choole Masala from India, Mediterranean-style hummus and pita bread, Ugandan-style chicken with rice and Puerto Rican Arroz con Gandules.
---
Today's headlines
Article tools
---
To participate in "A Taste of Diversity" by providing a dish, e-mail Keith Pilger to submit a recipe (including the number of people the dish will serve). Submissions will be featured in an upcoming recipe book.
"This celebration is a light-hearted and fun way for faculty, staff and students to learn about the different cultures that are represented at the Downtown Campus," said Pilger, who is program coordinator of student activities at the Downtown Campus. "We hope everyone will stop by, not only to taste some of the food but also to get a taste of the diversity at UTSA."
The UTSA Diversity Month signature event is the Tri-Campus diversity fair, "Celebrate UTSA: All Different, All Roadrunners," where UTSA community members celebrate and share their group or identity in a performance showcase or at an information table. Open to UTSA students, faculty, staff and friends, the event is 4-8 p.m., Tuesday, Nov. 13 at Sombrilla Plaza on the 1604 Campus.
For more information, call (210) 458-4770.