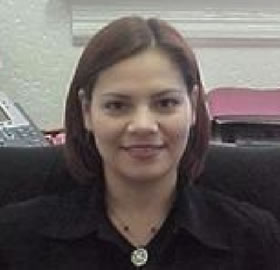 Top: Norma Cardenas and friend
Bottom: Lori Beth Rodriguez
Nov. 5 lecture series discusses Tejana identity
By Tanya Hulbert
Student Writer, College of Liberal and Fine Arts
(Nov. 2, 2007)--The UTSA Women's Studies Institute and UTSA La Raza Faculty and Administrators' Association present "From Salsa to Selena: Decolonizing Performances of Tejana Identity on Stage and in the Kitchen," as part of the Tejidas Chicano/Latina lecture series. The event is 5:30 p.m., Monday, Nov. 5 in the John Peace Library Building Assembly Room (4.03.08), UTSA 1604 Campus.
---
Today's headlines
Article tools
---
Speakers at the event will be Norma Cárdenas, UTSA lecturer in bilingual-bicultural studies, and Lori Beth Rodriguez, UTSA doctoral candidate in English. Cárdenas will speak on "Epistemologies and Geographies of the Panza, Kitchen and Home: Cooking as a Chicana Third Space Performative Act." Rodriguez will lecture on "Speaking Tejana: Mapping Constructions of Tejana Identity Within Literature, Film and Popular Culture."
Cárdenas teaches undergraduate courses including a Latino Cultural Expressions course she designed, using food as the unit of analysis. She received her doctoral degree in the Culture, Literacy and Language program at UTSA. Her dissertation, "Decolonizing Representation: Mexican American Food Interpretations of Identity in San Antonio," examines food as self-representation in historical, literary, visual art, theatrical and print media texts, and in everyday lives.
Rodriguez is in the Latina/o Literature program. Her dissertation focuses on contemporary reconstructions of Tejana identity within literature, film and popular culture. She is a native of San Antonio and is currently writing her dissertation as a Ford Foundation Dissertation Diversity Fellow.
For more information, contact Larissa Mercado at (210) 458-7885.