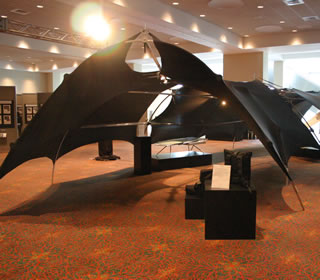 Winning UTSA entry in IFIA competition
Architecture students win international design award
By James Benavides
Public Affairs Specialist
(Dec. 19, 2007)--UTSA College of Architecture students recently won a 2007 International Achievement Award presented by the Industrial Fabrics Association International.
Graduate students Steven Cordero, Curtis Fish, Matthew Martinez, Andrew Wit, David Matiella and Hector Mendez designed and built an entry in the "Advanced Fabrics Exhibition Structure" category at the recent Industrial Fabrics Association International (IFAI) Expo. The students worked under the leadership of Mahesh Senagala, associate professor and associate dean for academic affairs and research in the College of Architecture.
---
Today's headlines
Article tools
---
The 75 foot by 25 foot armadillo-like structure was made of stretched Lycra fabric over a curvilinear aluminum frame. A number of senior students and professionals participated at various stages of the project.
Selected from 387 entries in 13 different countries, the winners represent many of today's top professionals in the specialty fabrics industry. Entries in 28 categories were judged by a diverse panel of industry experts, editors, architects, educators and design professionals selected for their knowledge of the particular category of competition. Judging was based on complexity, design, workmanship, uniqueness and function.
"To our knowledge, no one else in Texas, not even a professional design firm, has won this outstanding achievement award this year," said Senagala. "It's a remarkable accomplishment for an academic institution. Moreover, it's the first time ever for an academic institution to win this award since the inception of the awards program. This award is a testimony to the success of our strong partnerships with the industrial fabrics industry."
Some of the students involved in the design and construction of the IFIA entry also were involved in the award-winning "UTenSAils" fabric structure placed outside the Monterey Building at the UTSA Downtown Campus. They took on the new project as an extra-curricular activity under Senagala's direction. The initiative led to sponsorships from the Chism Company of San Antonio and Dazian Fabrics of Secaucus, N.J.
"What makes the award so significant," Senagala added, "is that our architecture students built the structure and won the recognition despite the lack of a dedicated workshop or staging area at the college. Workshop space and tools can increase the capacity of our award-winning program to take on more high-quality, high-profile projects like this."
The competition was sponsored by IFAI, a nonprofit trade association whose member companies represent the international specialty fabrics marketplace. The 2007 International Achievement Awards were presented in October in Las Vegas during IFAI Expo 2007, the largest annual specialty fabrics event.
For more information on the International Achievement Awards competition, contact Christine Malmgren, International Achievement Awards manager, at (800) 225-4324.