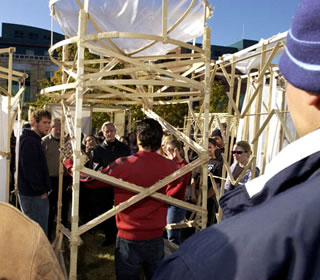 Top: UTSA architecture class
Middle: Associate Professor Marc Giaccardo
Bottom: Ideal street class project at Downtown Campus
UTSA adds bachelor's degree in construction science
By James Benavides
Public Affairs Specialist
(Dec. 7, 2007)--The Texas Higher Education Coordinating Board recently approved a bachelor of science degree in construction science and management for The University of Texas at San Antonio's College of Architecture, bringing the university's total number of bachelor's degrees to 64. Classes for the program will begin at the UTSA Downtown Campus in fall 2008 with an anticipated 40 students.
The degree program's curriculum was developed in cooperation with the UTSA College of Business. Marc Giaccardo, AIA and UTSA associate professor of architecture, will direct construction science and management students in the program offering courses in construction science, architecture and business to prepare students for management careers in the building industry.
---
Today's headlines
Article tools
---
In addition to the formal academic curriculum, students will be required to obtain a construction management internship in the building industry between their junior and senior academic years. The program will strive to maintain a close partnership with the building industry.
The new curriculum will prepare students to manage the skilled trades, technologists and craftspeople on the job site and effectively interact with architects, engineers, owners and other professionals involved in the modern construction process.
In response to the industry's need for timely project delivery, indoor/outdoor environmental quality and short-term and life-cycle costing, the curriculum will emphasize environmentally sustainable building practices, cost controls and communication skills. It will create an understanding of the technical aspects of construction and the construction process and the application of information technology to the building industry.
The UTSA College of Architecture offers an environment where students in the three tracks of architecture, interior design, and construction science and management learn and work in teams while working on their degree programs. Students develop an understanding of the complementary roles and responsibilities of each profession through several courses shared by all College of Architecture students.
Setting the construction science track apart from architecture and interior design are courses in Business Law, Principles of Business Finance, Organizational Theory and Behavior Management, Construction Safety, Construction Law and various social and behavioral science classes. Course work will satisfy requirements for OSHA, CPR and first aid certification.
The UTSA College of Architecture is one of eight Texas schools accredited by the National Architectural Accrediting Board. It is the fastest-growing architecture/interior design program in the nation and the second-largest college or school of architecture in Texas. The new undergraduate degree program will seek American Council for Construction Education candidate status starting in fall 2008 in order to apply for full accreditation in 2012.
The University of Texas at San Antonio is one of the fastest growing higher education institutions in Texas and the second largest of nine academic universities and six health institutions in the UT System. As a multicultural institution of access and excellence, UTSA aims to be a premier public research university providing access to educational excellence and preparing citizen leaders for the global environment.
UTSA serves more than 28,500 students in 64 bachelor's, 43 master's and 20 doctoral degree programs in the colleges of Architecture, Business, Education and Human Development, Engineering, Honors, Liberal and Fine Arts, Public Policy, Sciences and Graduate School. Founded in 1969, UTSA is an intellectual and creative resource center and a socioeconomic development catalyst for Texas and beyond.