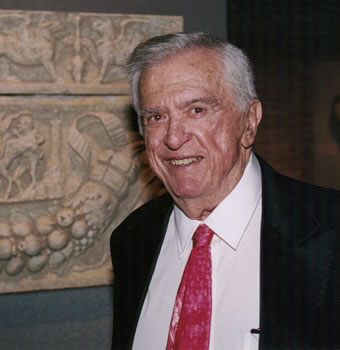 Gilbert M. Denman
Gib Denman honored with University Center room naming
By Janice Odom
Interim Vice President for University Advancement
(Dec. 7, 2007)--UTSA President Ricardo Romo recently announced the renaming of the Laurel Room in the University Center as the Gilbert M. Denman Room "in memory of a great friend who favorably impacted numerous programs at UTSA through his generosity and dedication to higher education and the arts."
The renaming was announced at a Nov. 29 ceremony before the President's Opening Night of Holiday Cabaret.
---
Today's headlines
Article tools
---
Gib Denman, who died in 2004, was a prominent San Antonio attorney largely responsible for some $5 million in gifts to UTSA over the years. He was on the board of the Ewing Halsell Foundation, which made a $1 million scholarship gift in 2000, and served as trustee of the George W. Brackenridge Foundation, which contributed $1 million to UTSA in 2001 to create the Sue E. Denman Distinguished Chair in American Literature. The chair was named in honor of his grandmother, one of the first women in Texas to attend college.
To honor his memory, the other trustees of the Brackenridge Foundation funded the Gilbert M. Denman Professorship in American History at UTSA in 2004 and the Gilbert M. Denman Jr. Opera Endowment in 2005.
A native of San Antonio, Denman graduated in 1940 from the University of Texas at Austin, where he was president of the Sigma Chi Fraternity. After graduation from the UT School of Law in 1942, he was commissioned as an officer in the U.S. Navy, where he trained as a cryptographer and served as an aide to Admiral Chester W. Nimitz during World War II.
With his cousin, Leroy G. Denman Jr., Gib Denman was a third-generation partner in Denman, Franklin & Denman, one of the most influential law firms in San Antonio. The support provided to UTSA by the Denman family through its various interests has come at critical times in the university's history, providing important endowment funds to recruit outstanding students and faculty.
"Gib Denman touched the entire UTSA community in many ways," said Romo. "The renaming of the Laurel Room as the Gilbert M. Denman Room is a fitting tribute to a great friend, a generous benefactor and an exceptional visionary."
With the renaming of the Laurel Room as the Gilbert M. Denman Room, the original Denman Room in the John Peace Library (JPL) Building at the 1604 Campus now will be called the JPL Executive Conference Room.