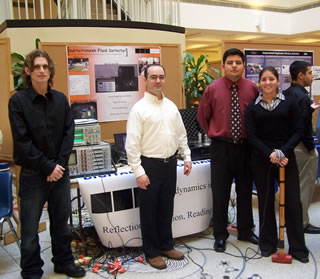 Top: Students with their theme park automated ride entry system
Bottom: Students with converted seismograph project
(Photos by Kris Rodriguez)
Electrical engineering seniors show innovative projects
By Kris Rodriguez
Public Affairs Specialist
(Dec. 5, 2007)--Last week in the atrium of the Biotechnology, Sciences and Engineering Building, UTSA electrical engineering seniors presented projects they designed, developed and built this semester.
Nine groups of students exhibited a variety of innovative projects that offered alternative solutions to problems already solved or solutions to problems not previously examined.
---
Today's headlines
Article tools
---
Scott McNea and classmates Chris Berg, David Valdez and Melanie Huffman devised a baby monitoring system that would monitor a baby's heart rate and breathing patterns to prevent Sudden Infant Death Syndrome (SIDS).
"If there is a certain change in the breathing or if the breathing stops altogether, we have an alarm that will let the parents know that the baby is not breathing," said McNea. "We also have a vibration system that will hopefully stimulate the baby so it will start breathing again."
Another project converted old seismographic equipment donated by the UTSA Center for Water Research. Students Ryan Ewers, Jose Fernandez, Erin Spindle and Paul Enman updated the technology from analog to a low-power, lightweight, digital application at a fraction of the cost of a new digital seismograph.
"We could give this to a geologist and they could use it to figure out if there is water, oil, fluids or a type of rock underneath the soil," said Ewers.
Other projects included an underground human locating system for people buried in debris, an improvised explosive device jammer with saturating frequencies and an energy conservation system that would allow for consumer monitoring to reduce energy consumption.
Some projects were designed with the intent of making life easier, such as the the automated ride entry system created by Valerie Elizondo, C. Chen, Thomas Hui and Ron Stanbaugh. According to Elizondo, the system determines if a person is the appropriate height and weight before climbing aboard a theme park ride. Other projects in the category were an autonomous lawnmower and a smart parking lot locator.
UTSA's new Center for Innovation and Technology Entrepreneurship hosted a competition later in the week with judges from UTSA and the San Antonio hi-tech community. First-place honors went to the baby monitor project, second place to the creators of the underground human locating system and third place to the converted seismograph project.