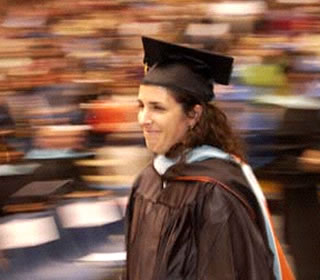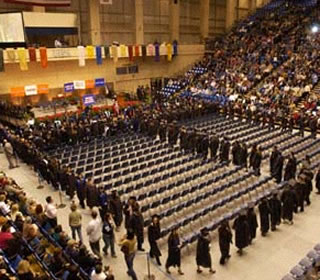 UTSA Commencement ceremonies
View a live online stream of UTSA Commencement ceremonies.
Also, ceremonies will air on UTSA-TV monitors, Time Warner Cable
channel 98 and Grande Communications channel 21.
More than 2,200 walk commencement stage Dec. 13-15
By Kris Rodriguez
Public Affairs Specialist
(Dec. 13, 2007)--More than 2,200 graduation candidates will walk the stage as UTSA celebrates three days of commencement ceremonies Dec. 13-15 in the Convocation Center on the 1604 Campus.
The ceremonies begin at 7 p.m. Thursday, Dec. 13 with the first section of College of Business and College of Engineering degree candidates. Milton Lee, CPS Energy general manager and CEO, will address 406 students as the evening's keynote speaker. Under Lee's direction, CPS Energy developed one of the most aggressive renewable energy programs in Texas and is the largest publicly owned purchaser of wind power in the state.
---
Today's headlines
Article tools
---
At 2 p.m., Friday, Dec. 14, the Honors College ceremony is in the UTSA Arts Building Recital Hall. At 6:30 p.m., the second section of the College of Business graduation candidates will participate in the ceremony. Keynote speaker Linda Montgomery, JLM Marketing president and former president of the UTSA Alumni Association, will address 328 degree candidates.
At 9 a.m. Saturday, Dec. 15, 471 graduation candidates from the College of Education and Human Development will walk the stage. The featured speaker will be Sarah E. Moten, division chief of the U.S. Agency for International Development, Africa Bureau, Office of Sustainable Development, Education Division. Moten oversees President George W. Bush's African Education Initiative, which provides $600 million to support African education programs including a $5 million grant to the UTSA College of Education and Human Development.
The 1 p.m. Saturday ceremony features Julius Gribou, UTSA interim provost and vice president for academic affairs, addressing 487 graduation candidates in the first section of the College of Liberal and Fine Arts, College of Architecture and College of Public Policy.
In the final exercise of the day at 5 p.m., UTSA Professor Emeritus Alan Craven will address 543 degree candidates in the second section of the College of Liberal and Fine Arts and College of Sciences.
Alan Craven began his 40-year career in 1958 as an assistant instructor of English. In 1973, he came to UTSA from Brandeis University when UTSA was four years old and had only 52 faculty members. He served under four of UTSA's five presidents including Ricardo Romo and is the writer of the lyrics to the UTSA school song.
As director of the former Division of English, Classics and Philosophy, Craven oversaw the implementation of bachelor's degree programs in English, humanities, philosophy and communication, as well as the master's degree in English. As the first dean of the College of Liberal and Fine Arts, he established the bachelor's degree in classical studies and the Ph.D. program in English.
Craven raised more than $2 million in various fundraising campaigns and established 30 endowed scholarships. In 2004, he was appointed the university's first professor emeritus of English. He has published in such journals as English Language Notes, Papers of the Bibliographical Society of America and Shakespeare Quarterly.
The University of Texas at San Antonio is one of the fastest growing higher education institutions in Texas and the second largest of nine academic universities and six health institutions in the UT System. As a multicultural institution of access and excellence, UTSA aims to be a premier public research university providing access to educational excellence and preparing citizen leaders for the global environment.
UTSA serves more than 28,500 students in 64 bachelor's, 43 master's and 20 doctoral degree programs in the colleges of Architecture, Business, Education and Human Development, Engineering, Honors, Liberal and Fine Arts, Public Policy, Sciences and Graduate School. Founded in 1969, UTSA is an intellectual and creative resource center and a socioeconomic development catalyst for Texas and beyond.
----------------------------------------
Fall 2007 Commencement statistics
College of Business -- 602 degree candidates
College of Liberal and Fine Arts -- 552 degree candidates
College of Education and Human Development -- 470 degree candidates
College of Sciences -- 287 degree candidates
College of Engineering -- 132 degree candidates
College of Public Policy -- 120 degree candidates
College of Architecture -- 71 degree candidates
Vice Provost - Downtown Campus -- 1 degree candidate
Bachelor's degrees -- 1,787
Master's degrees -- 417
Doctoral degrees -- 31