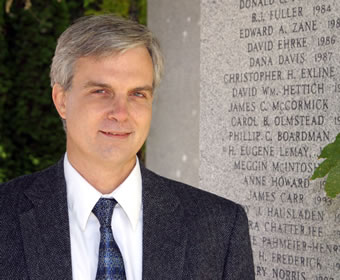 John Frederick
UTSA names provost and VP for academic affairs
By Tim Brownlee
Assistant Director of Public Affairs
(Dec. 13, 2007)--UTSA President Ricardo Romo announced today the appointment of John Frederick as provost and vice president for academic affairs, the university's second-highest ranking official. Frederick will begin his duties Feb. 18.
Romo selected Frederick from three finalists after a nationwide search netted 71 candidates for the position. Frederick succeeds Julius Gribou, who served since May as interim provost and vice president for academic affairs.
---
Today's headlines
Article tools
---
A native of San Antonio and 1976 graduate of Jefferson High School, Frederick comes to UTSA from the National Association of State Universities and Land-Grant Colleges (NASULGC), where he was a senior fellow.
He served as executive vice president and provost at the University of Nevada, Reno from 2001 to 2007. At NASULGC, he helped implement the Science and Mathematics Teacher Imperative, a national effort to enhance the quality and production of math and science teachers at the middle and secondary school levels.
"I am delighted to announce Dr. Frederick's appointment as the university's new provost," said Romo. "He is a gifted scholar, educator and academic leader. He is highly respected by faculty colleagues and peers in the field of chemistry, and I am confident he will provide great leadership for UTSA as our next provost."
Frederick said, "I am thrilled to be returning to San Antonio and joining the UTSA team. President Romo has set an exciting agenda for the future and I look forward to contributing to his effort to build a first-class research university that will serve the higher education needs of South Texas."
The UTSA provost, who reports to the president, is responsible for academic leadership in ensuring curricula, teaching and research of superior quality; working with Faculty Senate on matters of general welfare for the university; building and overseeing the university budget; advising the president on plans, policies and operations; and representing the university in the president's absence at state and regional organizations.
Additionally, the provost oversees all aspects of the professional and academic accreditation of academic programs, academic space, faculty development and academic personnel, including coordination within the University of Texas System and with the Texas Higher Education Coordinating Board.
James McDonald, UTSA associate vice provost for academic and faculty support and chair of the 19-member university provost search committee, forwarded Romo an unranked list of three finalists at the end of the committee's deliberations. Each finalist met with faculty, students, staff and community members in sessions at the 1604 and Downtown campuses. The search process was aided by Greenwood & Associates Inc., a Miramar Beach, Fla., executive search, consulting and training firm.
"We were privileged to have such an impressive pool of applicants with a rich array of skills, talents and experience," said McDonald. "John Frederick is an outstanding leader who will help steward UTSA toward a new level of competitiveness as an outstanding undergraduate, graduate and research-intensive institution."
Frederick received a bachelor's degree in chemistry (1980) from Princeton University, and master's (1982) and Ph.D. (1985) degrees in chemistry from Harvard University. Before serving as provost at University of Nevada, Reno, he was a professor and chair of the Department of Chemistry. As a theoretical chemist, he initiated and directed the chemical physics Ph.D. program (1990-2001).
Frederick's honors include UNR's Alan Bible Teaching Excellence Award (1995) and the F. Donald Tibbitts Distinguished Teacher Award (1996). In 1996, he was named Outstanding Faculty Member by the Nevada Board of Regents.
He has published more than 40 refereed articles in leading chemical physics journals in topics ranging from the spectroscopy and dynamics of large conjugated molecular systems to the formulation of a phase-space representation of quantum mechanics with work supported by more than $2.5 million in competitive funding. He was a visiting scientist at the Institute for Molecular Science, Okazaki, Japan; Centro de Investigacion y de Estudios Avanzados del I.P.N., México City; Moscow State University, Russia; and the University of Texas at Austin.
Additionally, Frederick served on the Academic Affairs Council in the Nevada System of Higher Education, the Council for Academic Affairs in NASULGC and Nevada Governor Jim Gibbons' transition team for education policy and priorities.