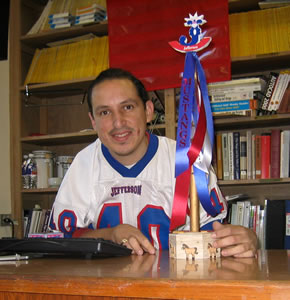 David Garcia
UTSA Commencement Close-Up: David Garcia overcame many obstacles while earning a master's of architecture degree and teaching certification
By James Benavides
Public Affairs Specialist
(Dec. 14, 2007)--David Garcia first walked the commencement stage at UTSA in 1999, earning a bachelor of science degree in architecture. After eight years, a fire and personal struggles, Garcia will walk the stage again -- this time claiming his master of architecture degree.
Garcia has limited use of his hands due to a birth defect. He does not see it as a handicap, but as a blessing that that has brought people into his life to help. Though it has not had serious affects on his academics, it has caused some frustration in building small-scale architecture models. Constant building and rebuilding has helped him hone the skill.
---
Today's headlines
Article tools
---
While in graduate school, he was a substitute teacher at Brackenridge High School. When an architecture instructor position at Thomas Jefferson High School opened in 2006, Garcia quickly pursued the opportunity. The San Antonio Independent School District offered him the full-time position on the condition that he earn a teaching certificate.
Enrolled in UTSA night and weekend classes, Garcia also commuted to Austin to work on his teaching certificate on nights and weekends at the Region 13 Education Service Center. Demands on his time did not allow him to finish his master's in fall 2006, but he received a Standard Texas Teachers Certificate, securing his position at Jefferson. In spring 2007, he was granted an extension to complete his master's thesis.
"I honestly didn't think he was going to make it," said Mark Blizard, associate professor, chair of the Department of Architecture and chair of Garcia's thesis committee. "I really thought his personal difficulties were insurmountable. However, his strength proved remarkable."
Garcia spent approximately seven semesters developing his thesis, "Guadalupe Arts High School: An Architectural Study in Student-Centered Educational Theory." The thesis committee, including Blizard, College of Architecture Interim Dean Bob Baron and Professor Richard Tangum describe Garcia's undertaking as "ambitious."
"In addition to research into various teaching models, David sought to understand the present needs of the public school system," said Blizard. "From this vantage point, he designed a new school that took into consideration a proposed joint project between the Guadalupe Cultural Arts Center and the San Antonio Independent School District."
Now that he earned his master's degree, Garcia has two additional goals.
First, he wants to continue instilling in his students the value of education. To that end, he wants to pursue a master's in education. His second goal is to design and build a home for his mother and father. Six years ago on Christmas Day, the home where the family lived for more than 25 years was destroyed in a fire. The life experience, he says, taught him that nothing is more important than his family.
It's been several years since Garcia participated in the Young Scholars and Prefreshman Engineering (PREP) programs at UTSA and took drafting under Benny Partin at Thomas Edison High School. With his master's degree, the boy who always drew houses in elementary school achieved a major goal in his life.
Garcia extends his thanks to his family, mentor Mark Blizard and the friends who supported him along the way.