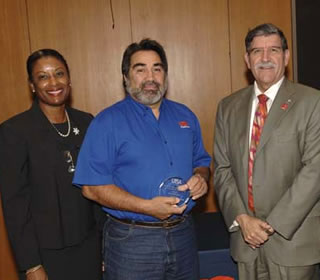 Top photo: Yolanda Miller, Kim Ellicks-Center, Ricardo Romo
and Kerry Kennedy
Second photo: Miller, Galen Raether, Romo and Kennedy
Third photo: Miller, Felix Hernandez and Romo
Bottom photo: Lacy Hampton, Paul Duke, Romo
and Kennedy
UTSA ranks sixth in state in HUB expenditures
By Pamela Bacon
UTSA Associate Vice President for Administration
(Dec. 7, 2007)--The third annual HUB Awards and Recognition Ceremony, hosted Nov. 28 by Kerry Kennedy, UTSA vice president for business affairs, honored the members of the UTSA community who contributed last year to the success of UTSA's Historically Underutilized Business (HUB) program.
At the ceremony, UTSA President Ricardo Romo announced that UTSA ranks sixth among the top 25 historically underutilized business (HUB) programs in the state. Up from a 19th ranking last year, it is the sixth time in seven years that UTSA is among the top 25. Romo presented engraved plaques to UTSA staff members who served as HUB advocates last fiscal year. (See the list of award winners below.)
---
Today's headlines
Article tools
---
In fiscal year 2007, UTSA spent more than $17.2 million (35.44 percent of total purchases) with HUB vendors, which are minority- and women-owned businesses certified by the state.
"UTSA continues its support of historically underutilized businesses," said Romo. "I thank everyone at the university for taking part in the HUB program. As one of the fastest growing universities in the state, it is important for UTSA to continue its leadership role in supporting HUBs. Because of this program, many of the university's purchasing dollars stay in our community."
The ranking is according to the Texas Building and Procurement Commission, which lists the top 25 agencies reporting expenditures in excess of $5 million. UTSA's expenditures were $48.6 million (up 3 percent from $37.4 million in fiscal year 2006) with $17.2 million spent with HUBs, a 6.5 percent-of-expenditures increase from fiscal year 2006.
Other University of Texas institutions joining UTSA in the top 25 are UT Tyler (48.46 percent), UT Dallas (33.27 percent ) and UT El Paso (26.48 percent).
The top 5 Texas agencies in HUB utilization for 2007 were Texas A&M International University ($3.6 million, 63.71 percent), University of Texas at Tyler ($8 million, 48.46 percent), Secretary of State ($3.2 million, 36.98 percent), Texas Legislative Council ($3.3 million, 36.61 percent) and University of Houston-Clear Lake ($3 million, 35.82 percent).
UTSA's HUB staff coordinating group meets quarterly to discuss HUB activities and guides the HUB program to achieve the strategic goals and objectives set forth for the university.
Staff coordinating group members for 2007-2008 are:
Pamela Bacon (chair)
Dalila Martinelli
Cassandra Porter
Terri Vasquez
Leopoldo Cervantes
Mansour El-Kikhia
Orestes Hubbard
Cindy Colston
Rodolpho Sandoval
Wanda Guntz
Lacy Hampton
Yolanda Miller
For more information, contact Yolanda Miller, UTSA director of materials management and HUB coordinator, or Lacy Hampton, assistant HUB coordinator, at (210) 458-4060 or visit the UTSA HUB Program Web site.
Read HUB reports at the Texas Building and Procurement Commission Web site.
----------------------------------------
HUB Awards 2007
HUB Small Dollar Employee Advocates
Alfonzo Villarreal, storekeeper, Office of Facilities Business Operations
Bryan Hilburn, administrative services officer II, Student Financial Aid
Kim Ellicks-Center, associate director, Office of Housing and Residence Life
Emma Acosta, administrative assistant, Office of the President
HUB Department Advocates
Most Improved in HUB Expenditures
Highest HUB Expenditures and Use of Unique Number of HUBs
Distance Learning
Student Activities and University Center
HUB Employee Advocate of the Year
Felix Hernandez, stores supervisor, Office of Facilities Business Operations
Purchasing and Distribution Services Department Buyer of the Year