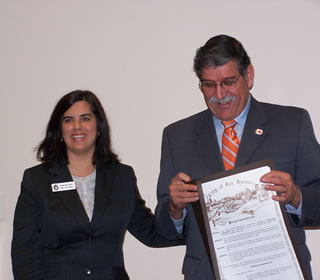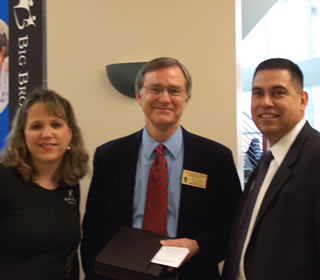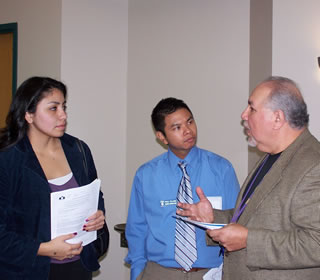 Top: Dawn Ann Larios from Mayor Phil Hardberger's office presents
Mentoring Day proclamation to UTSA President Ricardo Romo.
Middle: From left are Denise Barkhurst (Big Brothers Big Sisters),
Ron Thomas (UTSA director of school partnerships) and Rick
Gonzalez (executive director, UTSA Office of P-20 Initiatives).
Bottom: Nicole Canales and Paul Felarca of the St. Mary's
University Service Learning Center with Roberto Ruiz of the
Texas Youth Commission
UTSA hosts Mentoring Awareness Day breakfast
By James Benavides
Public Affairs Specialist
(Dec. 5, 2007)--UTSA President Ricardo Romo and the P-20 Initiatives and Community Outreach offices at UTSA recently hosted a breakfast gathering a number of local organizations to mark San Antonio Mentoring Awareness Day.
After welcoming guests, Romo related his own story about being mentored in junior high school by coach Bill Davis, who helped bring out Romo's natural athletic ability.
---
Today's headlines
Article tools
---
"A mentor is someone who has empathy and wants to develop talent in youth," said Romo. "Mentors work with young people and learn what talent they have. They create in the youth the belief that they can achieve."
Michael Karcher, UTSA associate professor of counseling and educational psychology, addressed the forum sharing insight from his recent book, "The Handbook of Youth Mentoring." His presentation emphasized three points: No Throwbacks, More Fooling Around and Beggars Should Be Choosers.
Karcher explained, "No Throwbacks" is a matter of commitment. Mentors must take the commitment to volunteer as a mentor very seriously -- Why go through the trouble of catching a fish if you're going to throw it back?
The second premise, "More Fooling Around," is about removing distractions from what makes mentoring so effective: the mentor-student relationship. Karcher said a main distraction is academics, and to keep in mind that mentors are not tutors. Teachers who value the power of relationships can appreciate the usefulness of play.
Karcher's third premise, "Beggars Should Be Choosers," targets agencies that recruit mentors. These agencies must be choosey, he said, and recruit people who either understand or can be trained to have a long-term rather than short-term perspective on the change mentoring can have on a child's life.
"In the last decade, the government has put about a quarter-billion dollars into supporting programs," said Karcher. "And now we know how important it is to promote quality over quantity in mentoring relationships."
San Antonio Mentoring Forum partners include Big Brothers Big Sisters, Communities in Schools, Texas Youth Commission, NISD, NEISD, SAISD, EISD, Bexar County, City Year, USAA, Frost Bank and other organizations.
A UTSA initiative, the forum promotes communication and collaboration within the local mentoring community. The forum provides an opportunity for mentoring organizations and advocates to exchange ideas, combine training opportunities and increase awareness of the need for one-to-one mentoring relationships.