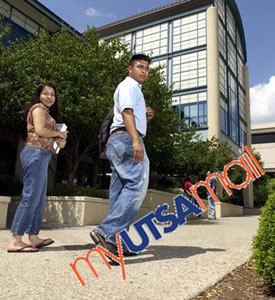 New myUTSAmail accounts will follow students forever.
myUTSAmail: UTSA upgrades student e-mail system
By Marianne McBride Lewis
Director of Public Affairs
(Dec. 19, 2007)--Effective Dec. 19, UTSA begins the transition to a new student e-mail system powered by Google and designed for college and university student users. All official correspondence from UTSA will be sent to this new e-mail account.
Lonestar e-mails (ex. jsmith@lonestar.utsa.edu) will be available until the end of the spring semester, and e-mails automatically will be forwarded to every student's new myUTSAmail account.
---
Today's headlines
Article tools
---
To move to the myUTSAmail account, students must log in to the ASAP information system with their ASAP user ID and pin. The opening screen will have a section titled "Your new myUTSA connection information."
Students will receive their myUTSA ID, a randomly generated set of three letters and three numbers (abc123), which will be used to log in to UTSA student computing lab PCs, the AirRowdy Wi-Fi connection, Printsmart and the new e-mail system. There also will be a myUTSA initial password that can be changed.
The good news is that once a student is set up on his or her myUTSAmail, (abc123@my.utsa.edu), it will be active forever -- even after graduation.
Other benefits of myUTSAmail include all of the features of Google Apps. In addition to a 4 GB inbox, the account offers a calendar, a word processor, a spreadsheet program and chat.
To access myUTSAmail, go to my.utsa.edu by clicking on the myUTSA link at the UTSA home page.
For more information, contact Office of Information Technology staff members in the student computing labs in Multidisciplinary Studies Building Room 1.03.07 (1604 Campus) and Frio Street Building Room 2.400 (Downtown Campus), or read the FAQs on the myUTSAmail Web site.