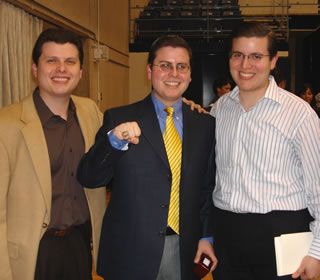 From left are the Villarreal brothers: Gustavo, '99, Alejandro, '07,
and Christian, '06.
UTSA is a family affair for Villarreal brothers
By Marcia Mattingly
UTSA Office of Alumni Programs
(Dec. 17, 2007)--The official UTSA ring is a family tradition for the Villarreal brothers. Gustavo, '99, and Christian, '06, attended the Dec. 7 Official UTSA Ring Ceremony at which Alejandro, '07, received his ring.
---
Today's headlines
Article tools
---
Established in 1996, the official UTSA ring has been the ring of choice for more than 1,500 students. Available exclusively to juniors, seniors and alumni, the ring is quickly gaining popularity.
"For many of our students, including the Villarreal brothers, getting a diploma is a very personal event and a family affair -- so each step closer to that goal is cause for celebration," said Jane Burton, UTSA director of alumni programs. "We are proud of the strength the ring tradition is gaining. The official ring is a common bond between alumni and those who will graduate this year and in years to come.
For more information, call UTSA Alumni Programs at (210) 458-4133.