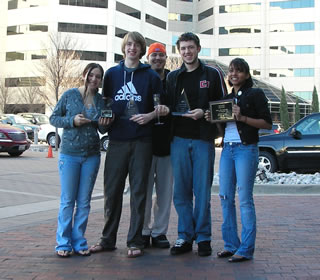 From left are UTSA debaters Rene Naud, Derek Liles, Matt Reichle,
Ben Barkley and Vasooda Kumar.
UTSA debaters are hot at UNT in Denton
By Skip Eno
Special Program Coordinator, Department of Communication
(Jan. 25, 2008)--The wind may have been blowing cold, but the UTSA debaters were hot at the annual William Demougeot Debates hosted Jan. 8-10 by the University of North Texas in Denton.
---
Today's headlines
Article tools
---
Junior division debaters Derrick Liles and Rene Naud bested teams from Kansas State University, University of Minnesota, University of Oklahoma and University of Missouri-Kansas City in preliminary rounds and then stormed through elimination rounds with a perfect record against teams from Louisiana-Lafayette and Kansas State to win their division. A graduate of Dallas Jesuit High School, Liles won the third speaker award, and his partner, Rene Naud, graduate of San Antonio Churchill, placed first.
Freshman Ben Barkley, a graduate of Houston Hightower, won the second speaking position in the novice division. He and his partner, Sophomore Vasooda Kumar, a graduate of Clements High School in Sugarland, placed third in the tournament, barely missing a trip to finals by one vote. Barkley and Kumar defeated teams from Johns Hopkins, Louisiana-Lafayette, Wake Forest, University of Central Oklahoma and University of Rochester.
In the following tournament at UT Dallas, Barkley and Kumar made it to the finals in the novice division. They placed second in the tournament; Barkley won second speaker. Liles and Naud moved up to the open division (championship level), where they turned in a credible first showing with three wins and four losses.
Both teams are arguing the pros and cons of this year's topic concerning constructive engagement with countries in the Middle East. Their next trip is to Baruch College in New York City the first week of February.