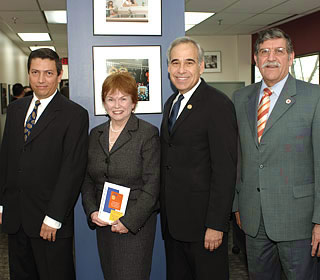 Top photo: Alejandro Madrigal, Harriett Romo, Charlie Gonzalez
and Ricardo Romo
Bottom photo: Harriett Romo
(Photos by Mark McClendon)
Mexico Center receives $280K in federal funds
By Marianne McBride Lewis
Director of Public Affairs
(Jan. 31, 2008)--Speaking before a group of local business people, economists, faculty and UTSA students at the UTSA Downtown Campus, Rep. Charlie Gonzalez, D-Texas, announced today $280,000 in congressional funding for the UTSA Mexico Center.
---
Today's headlines
Article tools
---
UTSA President Ricardo Romo welcomed Gonzalez and heralded the congressman for his many accomplishments, thanking him for his continuous support of UTSA.
Established in October 2005, the UTSA Mexico Center is an umbrella organization that connects existing Mexico-related expertise at UTSA through cross-disciplinary collaboration on research projects and activities. Its primary goal is to address and generate transnational dialogue and research on public policy issues that affect the people of Mexico and the United States.
Gonzalez said it was a "great pleasure to advocate for the Mexico Center" and share with his Washington, D.C., colleagues the importance of the work being done, particularly in light of the contentious immigration debate.
"The Mexico Center fills a void in the gap of our understanding of our neighbors to the south and their understanding of us," Gonzalez said. "Through its programs and partnerships, the UTSA Mexico Center helps us better understand and improve our relationship with Mexico. The center's efforts truly best serve the region's citizens and ecnomic interests."
Harriett Romo, executive director of the Mexico Center, said the funding will support UTSA student workers and additional programming. San Antonio's deputy consul general of Mexico, Alejandro Madrigal, acknowledged Gonzalez and said, "I am convinced that the UTSA Mexico Center will promote a better understanding between our two nations."