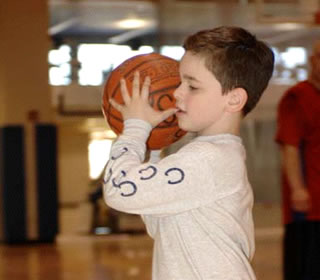 Special Oympics participants train at UTSA
(Photos by Mark McClendon)
Special Olympics students energize at UTSA
By Lety Laurel
Multimedia Editor, Office of Publications
(Jan. 22, 2008)--More than 1,100 Northside Independent School District Special Olympians filled the UTSA Recreation and Wellness Center's basketball courts Jan. 8-11 for the district's Practice Clinic and Scrimmage events. High schoolers played Tuesday, middle school students took to the courts Wednesday and elementary school students played Thursday and Friday.
---
Today's headlines
Article tools
---
They have been bussed to the university once a year since 2004 for the event, says Nancy Smith, NISD's lead specialist for adapted physical education and Special Olympics. Until then, the district had to limit who could play because of limited space in their facilities.
Students using wheelchairs couldn't play on the court and young students, called athletes-in-training, couldn't participate. Since using UTSA's facilities, the program has grown from about 600 to 1,100 athletes. This year, 86 schools participated.
Smith says being in a university setting gets the students energized.
"They get so excited just walking into the building," Smith says. "They've never seen four gyms together like that. They just beam and we try to make it as special as we can. The atmosphere and environment is so motivating for these kids. They really get so involved."
And they build camaraderie too. On Friday, the Rhodes Elementary School Raptors waved their flags and screamed for the team beside them, the Carson Elementary Cowboys. They cheered, stomped on the bleachers and did the wave. The athletes didn't care about school rivalry. It was all about the fun of the game.
"We had one school that even after another school played, they got up and shook their hands and said 'good game.' You wouldn't see that anywhere else," says Smith. "We appreciate so much UTSA's support... Whenever we have a problem, we know we can contact someone at UTSA. They're always willing to help us out."