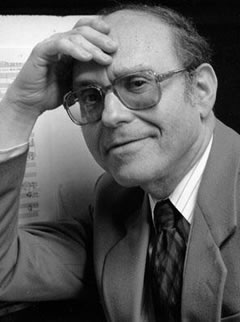 Composer Samuel Adler
UTSA presents Feb. 27 composer tribute concert
(Feb. 27, 2008)--The UTSA community is invited to celebrate the 80th birthday of distinguished American composer and teacher Samuel Adler in a tribute concert at 7:30 p.m., Wednesday, Feb. 27 in the Arts Building Recital Hall on the 1604 Campus. The concert is free and open to all.
---
Today's headlines
Article tools
---
UTSA music faculty and students will perform music by Adler and his students including San Antonio's Nicco Athens (currently studying with Adler at the Julliard School of Music) and David Heuser, UTSA associate professor of music.
Adler will be a special guest at the performance. He is in San Antonio for the Society of American Music conference at Trinity University.
The concert will feature UTSA faculty members and students including soprano Linda Poetschke, flautist Rita Linard, violist Allyson Dawkins, pianist Christine Debus, conductor Don Miller and others.
The selections of Adler's music will range from early works from the 1940s to more recent works written in the 1990s. View the concert program at the UTSA Department of Music Web site.
For more information, contact David Heuser at (210) 458-5321.
------------------------------
About the composer
Samuel Adler was born March 4, 1928, Mannheim, Germany and came to the United States in 1939. He was inducted into the American Academy of Arts and Letters in May 2001. He is the composer of more than 400 published works including five operas, six symphonies, 12 concerti, eight string quartets, four oratorios and many other orchestral, band, chamber and choral works and songs that have been performed around the world.
Adler was educated at Boston University and Harvard University, and holds honorary doctorates from Southern Methodist University, Wake Forest University, St. Mary's Notre Dame and the St. Louis Conservatory.
His major composition teachers were Herbert Fromm, Walter Piston, Randall Thompson, Paul Hindemith and Aaron Copland. In addition to his position at the Julliard School, he is professor emeritus at the Eastman School of Music, where he taught from 1966 to 1995.
Read more on the Samuel Adler Web site.