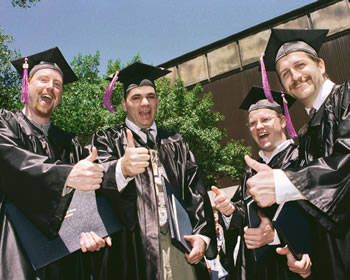 UTSA graduates
UTSA hosts financial aid workshop Feb. 17
By Kris Rodriguez
Public Affairs Specialist
(Feb. 15, 2008)--As part of Financial Aid Awareness Month, the UTSA Office of Student Financial Aid and Enrollment Services will host College Goal Sunday, a free financial aid workshop for college-bound students and their parents, from 2 to 4 p.m., Sunday, Feb. 17 in the Business Building University Room (2.06.04) on the 1604 Campus.
---
Today's headlines
Article tools
---
College Goal Sunday, a national program which Texas joined in 2006, will be conducted at 38 locations across the state. At the financial aid workshop, prospective students and their parents can meet with financial aid experts to complete the Free Application for Federal Student Aid (FAFSA). Students also can obtain information about grants, scholarships, loans and other federal and state government educational support. Additionally, there will be drawings for two $500 UTSA scholarships.
"These workshops bring together students and professionals with the tools needed to apply for the financial resources needed for college," said Margaret Allen-Romero , College Goal Sunday state coordinator.
Last year, College Goal Sunday helped more than 1,000 Texas students, and this year 2,000 participants are expected.
According to the Texas Higher Education Coordinating Board, the federal government awards more than $80 billion in financial aid for higher education annually. Last year, Texans received more than $4 billion.
Statewide evaluations last year show Texas met state and national goals and ranked in the top five among key target areas including low-income, first-generation college-bound students, underserved populations and students seeking bachelor's degrees.
For more information and workshop locations, visit the College Goal Sunday Web site.