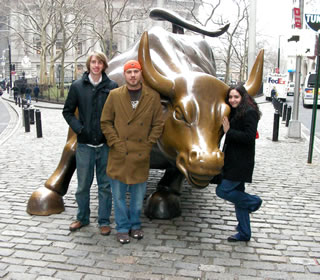 From left are UTSA debaters Matt Reichle, Derek Liles and
Rene Naud.
Roadrunner debaters tame bull market in NYC
(Feb. 15, 2008)--UTSA debaters Rene Naud (sophomore) and Derek Liles (freshman) recently placed third in open division competition in New York City. Naud won a speaker award for placing ninth in her division.
---
Today's headlines
Article tools
---
Liles and Naud defeated teams from Towson University, Dartmouth University, Marist College, New York University and Columbia University in preliminary rounds. They bested Binghamton University in the quarterfinals debate. In semi-finals, the Roadrunners' winning streak ended with a loss to a Cornell team that went on to defeat N.Y.U. in the final round.
With an earlier than expected winning record, Naud and Liles have succeeded at making the shift to the most advanced level of debate -- the open division. This week they will test their skills against a huge field of advanced debaters at the University of Texas at Austin. As in the New York tournament, they will be coached by UTSA student Matt Reichle and Skip Eno, special program coordinator in the Department of Communication.