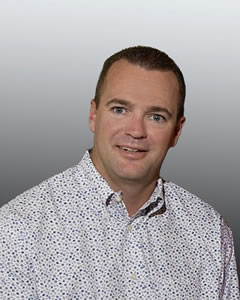 UTSA alumnus and Dell Computer executive
Jeff Clarke
UTSA Engineering Week spotlights job opportunities
By Kris Rodriguez
Public Affairs Specialist
(Feb. 19, 2008)--The UTSA College of Engineering will host National Engineering Week activities Feb. 16-23 at the 1604 Campus. Highlights of the week include a lecture by UTSA engineering alumnus and Dell Computers executive Jeff Clarke, the "Math Counts" competition with area elementary students, a land and water robot exhibit, a career expo and AT&T High Technology Day.
---
Today's headlines
Article tools
---
The events began at 9 a.m. Feb. 16 in the Business Building University Room 2.06.04, when area sixth through eighth grade students tested their skills in the "Math Counts" competition. The students also learned about the UTSA autonomous and underwater robots designed and built by electrical engineering students in the laboratory of UTSA Professor Mo Jamshidi.
Jeff Clarke, senior vice president of the Dell Computers Business Product Group, headlined the week's activities speaking with engineering students at 10 a.m. Feb. 19. Responsible for the worldwide engineering, design, development, marketing, quality and delivery of more than $50 billion in computer products, Clarke discussed his work experience since graduating from UTSA with a degree in electrical engineering.
In 2003, he and his wife, Loretta Clarke, donated $500,000 to establish two endowed professorships in the College of Engineering and the College of Education and Human Development. The donation is the largest from alumni of the UTSA College of Engineering.
At 4:30 p.m., Feb. 19, 29 companies will be on campus for a career expo and networking reception in Biotechnology, Sciences and Engineering Building Room 2.102, 1604 Campus.
The events close Thursday, Feb. 21. At 9 a.m., AT&T and UTSA's student chapter of the Mexican American Engineers and Scientists (MAES) will welcome area high school students for presentations and workshops featuring UTSA engineering and science student organizations. At noon, the students will participate in the AT&T High Technology Day video conference with high school students visiting other university campuses.
Founded in 1951 by the National Society of Professional Engineers, National Engineering Week is dedicated to ensuring a diverse and well-educated engineering workforce by increasing understanding of and interest in engineering and technology careers by promoting pre-college literacy in math and science. The week helps raise public understanding and appreciation of engineers' contributions to society.
The College of Engineering is one of the fastest growing colleges at UTSA with a 101-percent increase in enrollment in seven years. Additionally, the college is one of the nation's leading producers of Hispanic engineers. The undergraduate programs are accredited by the Accreditation Board for Engineering and Technology (ABET), and faculty members are national and international leaders in manufacturing, communications, security, biomedical engineering, water resources and transportation. The college is a leader in helping propel UTSA toward national research-intensive status.
Visit the UTSA College of Engineering Web site to learn more about how the college is shaping the technology of tomorrow.
------------------------------
Upcoming events in National Engineering Week 2008
Tuesday, Feb. 19, 4:30 p.m.
Career Expo and Networking Reception
Biotechnology, Sciences and Engineering Building Room 2.102
Thursday, Feb. 21, 8:30 a.m.
MAES/AT&T High Technology Day
Biotechnology, Sciences and Engineering Building atrium
Thursday, Feb. 21, noon
AT&T High Technology Day Video Conference
Biotechnology, Sciences and Engineering Building atrium