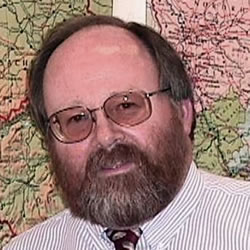 Top: Santiago Daydi-Tolson
Middle: Christopher Wickham
Bottom: Lynne Rossetto Kasper, host of NPR's
"The Splendid Table"
UTSA presents 'food in the arts' conference
By Ashley Harris
Public Affairs Specialist
(Feb. 21, 2008)--The UTSA Department of Modern Languages and Literatures will host the biennial conference, "Food Representation in Literature, Film and the Arts," from Thursday, Feb. 21 to Saturday, Feb. 23 at the UTSA Downtown Campus. The conference is made possible in part by a gift from H-E-B.
---
Today's headlines
Article tools
---
Organized by UTSA Professor Santiago Daydi-Tolson, the event features speakers from around the world who will discuss the many ways food is represented in literature and the arts throughout history in various cultures and countries.
To promote the conference, Christopher Wickham, associate dean of the UTSA College of Liberal and Fine Arts, will speak on the nationally syndicated public radio show, "The Splendid Table." The show will air locally at noon, Saturday, Feb. 23 on Texas Public Radio, KSTX 89.1.

Listen to the show: "The Splendid Table," Feb. 23, 2008, featuring the UTSA food conference (mp3 format)
Topics to be discussed in this year's conference include "Sacred Food, Deadly Dining" by Sandra Gilbert (University of California, Davis), "Food, Film and Wartime in Britain" by Richard Farmer (University of East Anglia, United Kingdom) and "Eating, Exile and Identity" by Ilona Baughman (Boston University).
Panel discussions will include "Edible Ideologies," "Performing Food," "Strife and Hunger" and "Food as a Social Symbolic Act."
Additionally, Wendy Barker, UTSA professor of English, classics and philosophy, will host a poetry café from 6:30 to 8 p.m., Friday, Feb. 22.
For more information, call (210) 458-5186.