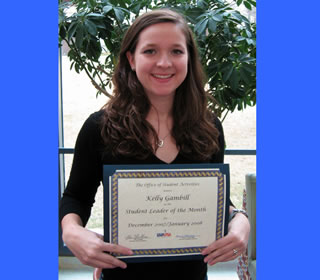 Kelly Gambill
Kelly Gambill named Student Leader of the Month
By John Kaulfus
Associate Dean of Students
(Feb. 12, 2008)--The UTSA Office of Student Activities announces Kelly Gambill as Student Leader of the Month for December/January 2008. Gambill was nominated by Charlin Jones, assistant director of the special events center.
A San Antonio native, Gambill graduated from Incarnate Word High School. She is a sophomore in the Honors College studying civil engineering and is president of the Alpha Lambda Delta Freshman Honor Society.
Additionally, she is social chair of Honors Alliance and a member of Phi Sigma Pi National Honor Fraternity, Sigma Kappa Upsilon Sophomore Honor Society, VOICES (Volunteer Organization Involving Community, Education and Service) and the Society of Women Engineers. In her spare time, Gambill enjoys bowling and works part-time at Tom's Ribs restaurant.
According to Jones, "Kelly is an up-and-coming leader. She is on the path for greatness."
The Student Leader of the Month award is sponsored by the Office of Student Activities to recognize outstanding UTSA student leadership contributions.
Nominees must meet these criteria to be considered for the award:
Full-time UTSA undergraduate or graduate student
Cumulative grade point average of 2.25 or higher at the time of nomination
Must have demonstrated excellence in leadership above and beyond typical expectations
Nominee's actions demonstrate a positive impact on the UTSA community
Submit nominations by the fourth Thursday each month at the UTSA Office of Student Activities Web site.