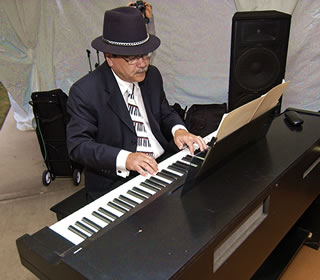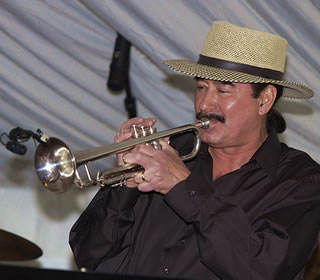 From the top at "Jazz in the Plaza" in 2006 are Jesse Zapata
(UTSA vice provost, Downtown Campus), George Morin (UTSA
customer support specialist, Student Computing Services) and
audience members.
Downtown Campus to celebrate 10th anniversary with jazz
By James Benavides
Public Affairs Specialist
(Feb. 26, 2008)--The UTSA Downtown Campus 10th anniversary celebration will feature an evening of musical entertainment with "Jazz in the Plaza" from 5 to 7 p.m., Wednesday, Feb. 27, on Bill Miller Plaza. The free concert is a kick-off event for UTSA Homecoming 2008.
View a UTSA video commemorating the 10th anniversary of the Downtown Campus.
---
Today's headlines
Article tools
---
The evening of musical entertainment with free barbecue courtesy of the Bill Miller family will feature performances by the Highlands High School Jazz Band, the UTSA Alex Sutherlin Project and the Joe Posada Jazz Quartet.
Known for his ability to integrate Tejano sounds with smooth jazz rhythms, Posada, a San Antonio native, has garnered four Tejano Academy Awards as a celebrated saxophonist. His recent albums include "Jazzano" (July 2007) and "Despacito" (May 2007).
In the event of inclement weather, "Jazz in the Plaza" will move to the Buena Vista Theater.
UTSA alumni are invited back to campus for four days of fun-filled homecoming activities leading up to the Diploma Dash 5K run/walk and a men's basketball game, among other events on Saturday, March 1. This year, the Roadrunners face the Texas A&M-Corpus Christi Islanders at 7 p.m. in the Convocation Center on the 1604 campus.
For more information and the schedule of events, visit the UTSA Homecoming 2008 Web site or call the UTSA Office of Student Activities on the Downtown Campus at (210) 458-2816.