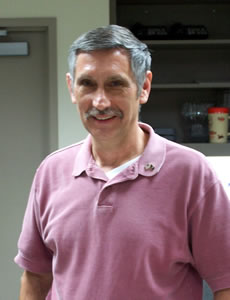 Frank Quest
UTSA Spotlight: Frank Quest has seen major growth judging by bigger stacks of mail to be managed
By James Benavides
Public Affairs Specialist
(Feb. 28, 2008)--Frank Quest retired Jan. 31 after 14 years of service to UTSA. For 10 of those years, he worked at the Downtown Campus as mail services manager.
A retired Navy chief petty officer, Quest began at UTSA at the 1604 Campus as a clerk in Facilities Services until moving downtown in 1997 with the opening of the new campus.
---
Today's headlines
Article tools
---
According to Powell Trotti, director of business operations at the Downtown Campus, Quest was instrumental in establishing mail and receiving services at the Downtown Campus and organizing the records retention storage facility.
Quest and his wife, Nancy, will move to the Washington, D.C., area where she has accepted a position with the Veterans Administration headquarters.
------------------------------
JB: What is different now as compared to 10 years ago?
FQ: The volume of work at the Downtown Campus has increased significantly in the mailroom with the addition of three buildings and the added responsibility of managing records retention.
JB: From your point of view, what is the Downtown Campus' role at UTSA?
FQ: The role of the Downtown Campus is to provide educational services to the downtown community and students who may have not been able to commute to the 1604 Campus.
JB: Describe your best day at the Downtown Campus.
FQ: My best day was when the Buena Vista Street Building was completed and we were able to move into the mailroom. Up to that point, all we had was a small area in the basement shared with Physical Plant. We didn't have mailboxes... just a sorting table.