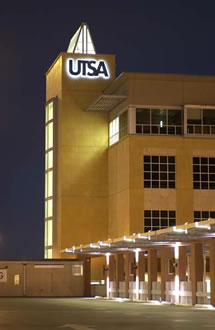 Durango Building, UTSA Downtown Campus
A Message from President Ricardo Romo
February 15, 2008
To the UTSA community:
On Thursday, a terrible tragedy occurred at Northern Illinois University. In the wake of this sad event, the UTSA community sends its thoughts and prayers to the NIU community and the loved ones affected. NIU is a university much like ours, and we realize what a small world it is in this era of instant communication.
Particularly in times such as this, it is important to demonstrate our concern and compassion for each other. As we think about the well-being of all, please keep in mind the resources available at UTSA.
---
Today's headlines
Article tools
---
Counseling Services is available at the 1604 and Downtown campuses to discuss your concerns. The UTSA Police Department is always available to help with security and safety issues.
Additionally, UTSA recently established the Reverse 911 alert system to keep the UTSA community informed in case of an emergency.
We extend our sympathies to NIU, as we focus on the safety and security of the UTSA community.
Sincerely,
Ricardo Romo
President,
The University of Texas at San Antonio
--------------------------------
UTSA Resources
Counseling Services: (210) 458-4140 (1604 Campus) or (210) 458-2930 (Downtown Campus)
UTSA Police Department -- 24-hour assistance -- dial 4911 from campus phones or (210) 458-4242 from non-UTSA phones, or utilize emergency phones in campus parking lots and across the campuses.
Register at ASAP for UTSA Reverse 911 emergency alerts. Students, faculty and staff registered in the system will receive phone, e-mail or text message alerts if a campus emergency occurs. (To register, log on to ASAP, scroll to "Personal Information" and select "Reverse 911 Emergency Alert Contacts.")
Other questions or concerns: University Communications, (210) 458-4550