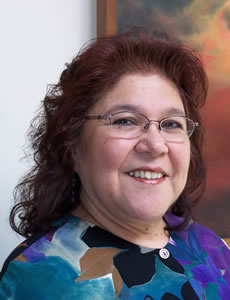 Velma Tristan
UTSA Spotlight: Velma Tristan likes the smaller size and central location of the Downtown Campus
By James Benavides
Public Affairs Specialist
(Feb. 29, 2008)--Velma Tristan is an administrative services officer in the Office of the Vice Provost and Office of the Dean of the College of Public Policy at the UTSA Downtown Campus.
As office manager, she is responsible for administrative fiscal, personnel and operational matters for the Office of the Vice Provost and oversees the administrative associates in the College of Public Policy.
-------------------------------
---
Today's headlines
Article tools
---
JB: What's different now from 10 years ago?
VT: The campus is so much larger, both in size and population. I have been here since Day 1 when only the south tower of the Frio Street Building was open. Everyone was sharing very little available office space -- and everyone was happy!
JB: Are things easier or more difficult?
VT: I have always felt things have always been easier at the Downtown Campus because everyone works together to make it so. I find it more difficult to keep up with faculty and staff changes as we've grown. In the early days, everyone knew everyone who worked at the Downtown Campus. Now, it is not as easy to know everyone.
JB: What's the biggest challenge of working at Downtown Campus?
VT: Having to constantly ask, "What about the Downtown Campus?" Sometimes I feel as if decisions are made for events are planned with no thought given to the Downtown Campus and the faculty, staff and students here. We have a few Downtown advocates on various university committees that keep reminding everyone to include the Downtown Campus when making decisions or planning events.
JB: From your point of view, what is the Downtown Campus' role at UTSA?
VT: The Downtown Campus' role at UTSA is attracting students who feel the 1604 Campus is too far or too big. We offer an alternative with our central location and the feeling of being at a smaller university -- with less of a parking problem.
JB: What is the Downtown Campus' role in the community?
VT: The San Antonio community seems to have embraced the Downtown Campus as its own from the beginning. Its central location and feeling of openness provide a strong link between the university and the community. Government and business leaders often look to the Downtown Campus as a venue when planning events for the community.
JB: Describe your best day or memory at the Downtown Campus.
VT: There are so many... I think my best memory is when we reached a student enrollment of 5,000 students well ahead of the 10-year plan. That was the day when we felt we did it!