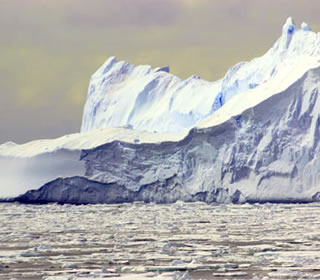 Iceberg in Amundsen Sea near Antarctica
View 'Inconvenient Truth' slide show Feb. 7
By Kris Rodriguez
Public Affairs Specialist
(Feb. 6, 2008)--The UTSA Energy Conservation Committee and the Department of Interdisciplinary Teaching and Learning will host the slide presentation, "An Inconvenient Truth: Climate Change and What We Can Do About It," at 6 p.m., Thursday, Feb. 7 in the University Center Retama Auditorium (2.02.02) on the 1604 Campus. The presentation is free and open to the public.
---
Today's headlines
Article tools
---
Haily Summerford of the City of Fort Worth Environmental Management Department will conduct the computer-based slide show based on the best-selling book and documentary film "An Inconvenient Truth" by former Vice President Al Gore. Summerford is one of 1,000 people trained across the United States to conduct presentations based on the film's findings.
The presentation discusses climate change, scientific data, proposed individual action steps and includes information detailing potential damage to the Texas coastline if climate change is left unchecked.
For more information, contact Christine Moseley at (210) 458-5992.