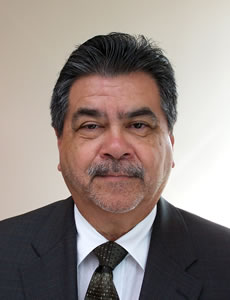 Jesse Zapata
UTSA Spotlight: Vice Provost Jesse Zapata says hosting talented individuals and community programs is one of his most enjoyable duties
By James Benavides
Public Affairs Specialist
(Feb. 29, 2008)--Jesse T. Zapata has witnessed two milestones in the history of UTSA -- the celebration of the first decade of the Downtown Campus and 13 years of UTSA's presence downtown. A member of the faculty since 1976, Zapata is vice provost of the Downtown Campus and dean of the College of Public Policy. In addition to being a professor and administrator, he is an advocate for UTSA's presence in the city center and a visionary for the urban campus' future.
---
Today's headlines
Article tools
---
As the Downtown Campus' top administrator, Zapata's main responsibilities include overseeing day-to-day operations and delivery of the curriculum. That means having the space to hold classes, the professors to teach them and the services to support them. To that end, he oversees the Downtown Campus Council, a team of advisers representing various aspects of the university including student affairs, business affairs, academic affairs, and services ranging from parking to food services, to library resources.
Concurrent with his administrative duties is Zapata's mission to promote the Downtown Campus and its programs to the community. His perception of the campus is that it is a concrete symbol of access to higher education. From his point of view, things were not easier or more difficult a decade ago, but things have changed.
"Ten years ago, there was more effort in selling the idea of a downtown campus to UTSA and the community," he says. "Today, it's about prioritizing what we can do here. We have several programs that want to come downtown or expand their presence here -- we just need the space to do it."
With the campus firmly established in the community, the focus is on academic achievement, intellectual growth and contributions to both academia and the community. An example Zapata cites is the Great Cities Dialogue, the College of Public Policy's distinguished speakers series.
Recent presentations have engaged academic and community representatives alike and helped define the Downtown Campus as a crossroads of principle and practice. Zapata believes that the establishment of the campus earned the university a seat at the table in envisioning San Antonio's growth and innovation.
Watching the campus achieve benchmarks of 3,000 and 6,000 students enrolled has been a great source of pride for Zapata. The university's decision to base programs at the Downtown Campus, including the College of Public Policy, the College of Architecture and the counseling program in the College of Education and Human Development validated his confidence in a campus in the city's urban core.
Hosting talented individuals and community programs that open dialogue for learning remains among Zapata's most enjoyable duties as a UTSA administrator.