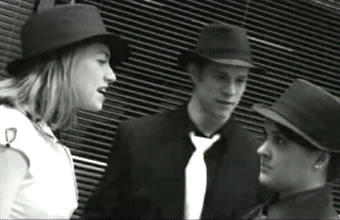 Scene from "Double Cross"
UTSA group presents free, student-written plays
By Chelsea Harbin
Publicity Manager, Bargain Basement Players
(March 31, 2008)--A UTSA student theater group, Bargain Basement Players, will present two short plays written, directed and acted by students at 7:30 p.m., March 31, April 2 and April 4 in the University Center Retama Auditorium (2.02.02) on the 1604 Campus. Billed as "Three Nights of Comedy: Two Shows for the Price of None," the troupe will perform "Double Cross" and "Around the Water Cooler."
---
Today's headlines
Article tools
---
Created in 2006, the troupe brings free theater to the UTSA community. Each play lasts approximately 30 minutes with a brief intermission.
"Double Cross" by Giffy Giffoniello is directed by Chris Worthington. The play opens as a huge gambling debt has triggered a series of unfortunate events at Thorton Manning's 1920s Chicago law office, and the mafia is on its way to collect...or else! Danger follows Manning's shady associates in a game of cat-and-mouse, until they realize the actor playing the lead role is in the wrong play. The stakes are high, the tension is thick and the chase is on in the comedic story of love, mystery and deceit. View a scene from "Double Cross" on YouTube.
"Around the Water Cooler" by T.J. Young is directed by Chelsea Harbin. The archetypal characters of ancient Greek drama are twisted to fit into a modern office setting. The chorus, a group of janitors, observes the action as the boss and the computer nerd race to win the affection of the office beauty. However, all must watch out for the tempting sirens and potential rejection when true love and lust battle it out around the water cooler.
For more information, contact Katie Varner, president and senior production manager for Bargain Basement Players, at (830) 796-5194.
------------------------------
'Double Cross'
Author Giffy Giffoniello is a Syracuse grad student in English and textual studies. The production is directed by UTSA freshman and Keller native, Chris Worthington, who will study radio, television and film next year at the University of North Texas. Cast members are Corey Smith, Heather Paisley, Philip Gonzalez, Rachel Kane and Madison Partida.
'Around the Water Cooler'
Author T.J. Young is a sophomore English major from Houston. The play is directed by Chelsea Harbin, sophomore English major from Port Aransas. The cast includes Ryan Kirby, Jessica Canter, T.J. Young, Jasmine Harris, Amy Yoder, Robert Calcagno, Joseph Thomas, Chris Worthington and Cait Taylor.