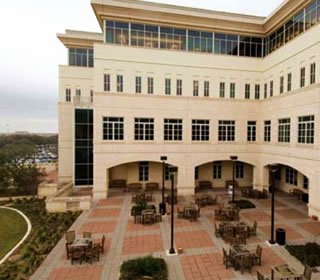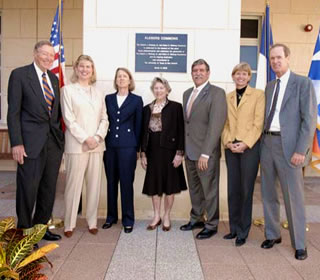 Top photo: Kleberg Commons, UTSA Biotechnology, Sciences and
Engineering Building
Second photo (from left): Ricardo Romo asks Tom Frost and Helen
K. Groves to unveil the commemorative plaque.
Third photo: Plaque detail
Bottom photo (from left): Frost, Caroline Forgason (daughter
of Groves), Emory Hamilton (daughter of Groves), Groves, Romo,
Claire Alexander (wife of John Alexander) and John Alexander (son
of Groves and UTSA Development Board member)
UTSA receives $822K gift from Kleberg foundation
(March 12, 2008)--President Ricardo Romo dedicated UTSA's Kleberg Commons at a March 11 ceremony on the 1604 Campus and also used the occasion to announce an $822,000 gift from The Robert J. Kleberg, Jr. and Helen C. Kleberg Foundation, the organization that honors the two Texans. (Read a related UTSA Today story.)
---
Today's headlines
Article tools
---
"For some time, we have wanted to create a lasting tribute to the Klebergs' legacy of philanthropy," said Romo. "So, several months ago, we asked the Board of Regents of the University of Texas System to approve the naming of one of our more popular student gathering places outside the new Biotechnology, Sciences and Engineering Building as the Kleberg Commons. It seemed only fitting to use the dedication ceremony as the time also to announce the latest gift to UTSA from the Klebergs' foundation."
The $822,000 gift will support the purchase of three state-of-the-art electron microscopes including scanning, tunneling and atomic-force microscopes. While housed in the College of Sciences, the new laboratory equipment will be available for multidisciplinary research ranging from physics and engineering to archaeology, art conservation and preservation.
"These microscopes, which represent some of the most important tools in modern science, will form the nucleus of a groundbreaking research unit that will be unique not only here in San Antonio but also in the entire state of Texas," Romo told the audience at the Kleberg Commons dedication.
Other speakers at the ceremony included John Frederick, UTSA's new provost and vice president for academic affairs, and Helen K. Groves, president of The Robert J. Kleberg, Jr. and Helen C. Kleberg Foundation -- and the only child of the Klebergs.
Groves was joined by Tom C. Frost, San Antonio businessman and chair of the UTSA Development Board, in unveiling a commemorative plaque honoring the memory of her parents and celebrating the generosity of the foundation and its commitment to UTSA.
George Perry, dean of the UTSA College of Sciences, said that the gift of the microscopes would contribute to UTSA's goal to become a premier public research university.
"I am so grateful to the Kleberg family for this generous gift and for their interest in scientific research," he said. "This is an exciting time for the college as we strive to advance scientific literacy, conduct cutting-edge research and provide leadership in the education of underrepresented and disadvantaged groups."
Serving more than 5,000 students enrolled in nine undergraduate degree programs and 15 graduate programs, the UTSA College of Sciences is composed of six departments: biology, chemistry, computer science, geological sciences, mathematics, and physics and astronomy.