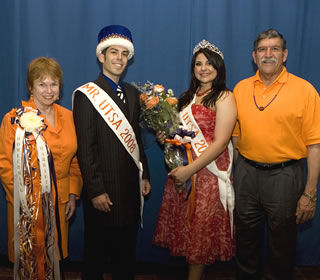 Top photo (from left): Dr. Harriet Romo, Mr. UTSA Daniel Bernal Jr.,
Ms. UTSA Jessica Beamer and UTSA President Ricardo Romo
Bottom photo: Winners of the "Where's Rowdy?" contest
Winners: Mr. and Ms. UTSA, 'Where's Rowdy?' contests
By Anne Englert
Assistant Director of Student Relations, Office of Alumni Programs
(March 12, 2008)--After an online vote during homecoming week by UTSA students, Daniel Bernal Jr. and Jessica Beamer were named Mr. and Ms. UTSA 2008 during halftime at the homecoming men's basketball game March 1. The UTSA Alumni Association and the UTSA Student Alumni Association sponsor the contest.
---
Today's headlines
Article tools
---
Daniel Bernal Jr. is a junior communication major sponsored by Maggie Floyd and Bonita De Leon. Bernal serves as the UTSA mascot Rowdy Roadrunner and is a supplemental instructor and a University Oaks resident assistant. He worked at the Mr. Roadrunner Camp 2005 and was named in 2007 to the President's List for Outstanding Academics.
Bernal plans to be a pharmaceutical representative and a real estate agent. According to Bernal, his qualifications to serve as Mr. UTSA are his academic success, moral standards and that he tries to help others as much as possible.
Jessica Beemer is a senior political science major who will graduate in May. She was sponsored by Sigma Kappa Sorority. Beemer is a consultant member for Be A Responsible Roadrunner. Her community service includes participating in the Alzheimer's Golf Classic, Memory Walk, Patriot Heights Assisted Living volunteer and Race for the Cure.
Her career goals are to attend law school with a concentration in international law and human rights issues. Beemer said her qualifications for Ms. UTSA are that she is a dedicated, hard-working young woman who strives to be a role model for others by staying active in campus activities and holding leadership positions.
All candidates for Mr. and Ms. UTSA were outstanding student leaders. The first runners-up were Michael Lopez and Whitney Ellis. The second runners-up were Mark Esté and Jacy Grantham.
Additionally, the UTSA Student Alumni Association hosted the UTSA tradition, "Where's Rowdy?" The homecoming contest for UTSA students, student organizations, their friends and alumni involves playing games to receive clues and prizes that lead them to find UTSA Rowdy Roadrunner somewhere on campus. This year's champs were the Orientation Leaders Association. The orientation leaders are Ashley Spain, Stephanie Dodson, Laura Zamzow, Megan Cassles and Tommy Morgan. Second-place winners were Campus Activities Board; third-place winners were Council of Business Scholars.