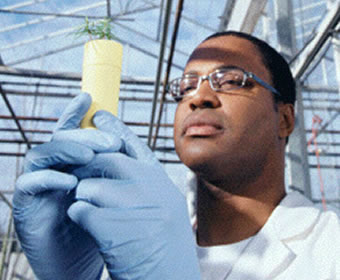 New UTSA program to jump-start inventions
(March 5, 2008)--As part of its mission to move UTSA technologies from the benchtop to the marketplace, the UTSA Office of the Vice President for Research and South Texas Technology Management (STTM) have announced the creation of a new internal funding program to advance UTSA discoveries toward commercialization.
---
Today's headlines
Article tools
---
Roadrunner Proof of Concept, or POCRR, will provide short-term grants of up to $25,000 beginning this spring. "The first Roadrunner POC proposal deadline is April 15, 2008. STTM will select and award the funds shortly thereafter," said Robert W. Gracy, UTSA vice president for research.
Proposals must include intellectual property and technologies previously submitted via an invention disclosure form to STTM. Projects selected for funding will be those that can produce a significant step toward commercialization. "In our experience, a small amount of funding for projects with very focused, short-term, commercially relevant milestones can yield a dramatic increase in the value and attractiveness of an invention to industry," said Kenneth Porter, STTM director.
The grant funds are made possible through supplemental funding provided by the Texas Emerging Technology Fund. ETF awarded a five percent bonus to ETF Subchapter F awardees directed to the grantee's technology transfer office to increase its commercialization capacity. At UTSA, $175,950 is available through STTM to support invention commercialization because of a $3.5 million ETF award to the information assurance/security project led by Ravinderpal S. Sandhu, Ph.D., holder of the Lutcher Brown Chair in Computer Science and founding executive director and chief scientist of the UTSA Institute for Cyber Security Research (ICSR).
Associated with another opportunity for moving UTSA inventions to market, Keith McDowell, University of Texas System vice chancellor for research and technology transfer, recently announced the first call for proposals to the Texas Ignition Fund.
STTM also is charged with evaluating and forwarding UTSA proposals for this program, according to Gracy. The next TIF proposal submission deadline also is April 15. Subsequent TIF deadlines will be every two months thereafter; POCRR requests for proposals will be semi-annual.
STTM is the newly formed technology transfer office that supports technology licensing and commercialization efforts at UTSA, UT Health Science Center, UT Brownsville and UT Pan American. STTM associates will be available to advise applicants in the preparation of both TIF and POCRR proposals. Porter encourages faculty that wish to apply for either fund to contact the office to arrange a pre-proposal consultation. "We will be advising faculty to submit very focused, short-term proposals with concrete milestones," said Porter.
Learn more about Roadrunner Proof of Concept program at the UTSA Office of the Vice President for Research Web site.
For more information, contact the South Texas Technology Management office at (210) 567-0084 or (210) 458-6466.