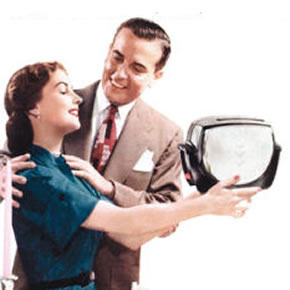 1950s advertisement
Media critic to speak on reality-TV stereotypes
(March 3, 2008)--As part of Women's History Month, the UTSA Women's Studies Institute will host a presentation, "Bachelor Babes, Bridezillas and Husband-Hunting Harems: Decoding Reality TV's Twisted Fairy Tales," by media critic Jennifer Pozner at 3 p.m., Wednesday, March 5 in the University Center Denman Room (2.01.28), 1604 Campus. The event is free and open to the public.
---
Today's headlines
Article tools
---
With humor, razor-sharp analysis and provocative clips, Pozner exposes how reality TV reinforces regressive stereotypes about women, men, love, marriage, sexuality and class in America. She skewers the lack of ethnic and physical diversity in a genre where women are sold right alongside soda and cell phones, and reveals how reality TV glorifies eating disorders, derides female intelligence and reduces Prince Charming to any jerk with a firm derriere and a firmer financial portfolio.
Presentation attendees will never see mating and makeover shows the same way again... and they will laugh a lot. Pozner's presentation offers new ways to look at the shows that audiences have been watching almost uncritically for years and gives an instant way to re-conceptualize media as text.
Pozner is a journalist, lecturer and the founder of Women in Media and News (WIMN), a media analysis, training and advocacy group. She has appeared as a commentator on MSNBC's "Scarborough Country," ABC News Now's "Top Priority," Comedy Central's "The Daily Show with Jon Stewart" and Fox News' "The O'Reilly Factor."
A noted public speaker, Pozner has conducted multimedia presentations and participated in panels and debates at dozens of colleges and conferences across the country. Her freelance work on women, media, politics and pop culture has been published in Newsday, Chicago Tribune, Arizona Republic, Women's Review of Books and other publications. She graduated from Hampshire College in 1996 with a self-designed concentration in journalism, media criticism and women's studies.
The lecture is co-sponsored by the Office of Student Activities, Campus Activities Board (CAB), Department of Communication and the Inclusion and Community Engagement Center.
For more information, contact the UTSA Women's Studies Institute at (210) 458-6277.