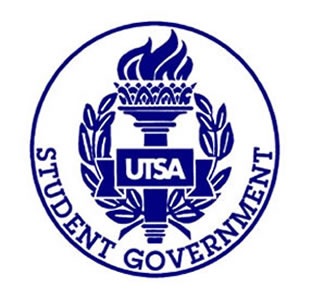 Student government announces election results
By Barry McKinney
Director of Student Activities
(March 19, 2008)--The UTSA Student Government Association (SGA) announced the spring election results March 13. Students voted online March 11-12, and the election results are listed below. Candidates indicated in bold print are the winners and will be sworn into their respective positions at the SGA Inauguration Banquet on Sunday, April 13.
Candidates indicated below by ** will participate in a run-off election March 25-26. Results of the run-off election will be announced at 3 p.m., Thursday, March 27 at the Office of Student Activities on the 1604 Campus.
---
Today's headlines
Article tools
---
The election results were certified as valid and accurate by Dan Iza, SGA chief justice; José David Mireles, SGA justice; Ezinne Okpo, SGA justice; John Kaulfus, SGA adviser and associate dean of students; Barry McKinney, SGA adviser and director of student activities; and John Montoya, SGA adviser and assistant director of leadership development.
------------------------------
SGA spring election results
Total enrolled students
26,188
Total students voting
1,508 students or 5.8% of total eligible to vote
President
Brandt Schermann -- 109 votes or 8% of students voting on this office
** Matthew DeLeon -- 360 votes or 25% of students voting on this office
** Christina Gomez -- 528 votes or 37% of students voting on this office
Jaime Villanueva -- 242 votes or 17% of students voting on this office
Simon Fraser -- 154 votes or 11% of students voting on this office
Write-In Votes -- 25 votes or 2% of students voting on this office
Vice President
Christian Menefee -- 1,176 votes or 97% of students voting on this office
Write-In Votes -- 42 votes or 3% of students voting on this office
Treasurer
** Fabian Vasquez -- 346 votes or 30% of students voting on this office
** Jordan Raymond -- 458 votes or 40% of students voting on this office
Joseph Garza -- 328 votes or 28% of students voting on this office
Write-In Votes -- 21 votes or 2% of students voting on this office
Secretary
** Kort Jackson -- 321 votes or 28.3% of students voting on this office
** Derek Bell -- 489 votes or 43% of students voting on this office
Carey Neal -- 315 votes or 27.7% of students voting on this office
Write-In Votes -- 9 votes or 1% of students voting on this office
College of Architecture (1 position available)
Fernando Garcia -- 9 votes or 47% of students voting on this office
Jeremy Herrod -- 10 votes or 53% of students voting on this office
Write-In Votes -- 0 votes or 0.0% of students voting on this office
College of Business (5 positions available)
Lawrence Tijerina -- 11 votes or 5% of students voting on this office
Nicole Munoz -- 75 votes or 34% of students voting on this office
BenKing -- 28 votes or 13% of students voting on this office
Matthew Golder -- 11 votes or 5% of students voting on this office
Melissa Cordero -- 19 votes or 9% of students voting on this office
Eliana Suarez -- 5 votes or 2% of students voting on this office
Willie Thomas -- 40 votes or 18% of students voting on this office
Derek Trimm -- 13 votes or 6% of students voting on this office
Juan Carlos Montalvo Garza -- 11 votes or 5% of students voting on this office
Write-In Votes -- 7 votes or 3% of students voting on this office
College of Education and Human Development (4 positions available)
Kimberly Olsen -- 15 votes or 12% of students voting on this office
Rachel Andrews -- 26 votes or 20% of students voting on this office
Christina Stevenson -- 39 votes or 31% of students voting on this office
Leticia Allen -- 24 votes or 19% of students voting on this office
Jennifer Grant -- 23 votes or 18% of students voting on this office
Write-In Votes -- 0 votes or 0% of students voting on this office
College of Engineering Election Results (2 positions available)
Matthew Ellison -- 60 votes or 97% of students voting on this office
Write-In Votes -- 2 votes or 3% of students voting in this office
(1 position remains vacant until fall elections)
College of Liberal and Fine Arts (5 positions available)
Tomi Yamamoto -- 64 votes or 23% of students voting on this office
Matthew Linder -- 38 votes or 14% of students voting on this office
Tyler Buske -- 16 votes or 6% of students voting on this office
Gin Ju Im -- 48 votes or 17% of students voting on this office
Brent Ward -- 44 votes or 16% of students voting on this office
Jose Benavides -- 32 votes or 11% of students voting on this office
Miguel Guerra -- 27 votes or 10% of students voting on this office
Write-In Votes -- 8 votes or 3% of students voting on this office
College of Public Policy (1 position available)
No Declared Candidates
Write-In Votes -- 9 votes or 100.0 % of students voting in this office
Edward Nichols -- 3 votes or 33% of valid votes on this office
College of Sciences (5 positions available)
Eric Ruiz -- 37 votes or 22% of students voting on this office
Desiree Franks -- 21 votes or 12% of students voting on this office
Laura Carr -- 56 votes or 33% of students voting on this office
Margie DeYoung -- 18 votes or 10% of students voting on this office
Kevin Robin -- 12 votes or 7% of students voting on this office
Marco Leung -- 8 votes or 6% of students voting on this office
David Rafferty -- 9 votes or 5% of students voting on this office
Write-In Votes -- 10 votes or 6% of students voting on this office
Undeclared College (3 positions available)
Chase Levy -- 14 votes or 15% of students voting on this office
Angelica Medina -- 38 votes or 41% of students voting on this office
Patton Phelps -- 40 votes or 43% of students voting on this office
Write-In Votes -- 1 votes or 1% of students voting on this office
Graduate Student (3 positions available)
No Declared Candidates
Write-In Votes -- 15 votes or 100.0 % of students voting on this office
(3 positions remain vacant until fall election)
No plurality for eligible write-in candidates
Senior Class (3 positions available)
Jason Perkins -- 61 votes or 26% of students voting on this office
Jasmine Waldon -- 100 votes or 43% of students voting on this office
Jennifer Bigler -- 67 votes or 29% of students voting on this office
Write-In Votes -- 7 votes or 2% of students voting on this office
Junior Class (3 positions available)
Vasooda Kumar -- 42 votes or 22% of students voting on this office
Elizabeth Cepeda -- 89 votes or 47% of students voting on this office
Andrew Dossman -- 55 votes or 28% of students voting on this office
Write-In Votes -- 5 votes or 3% of students voting on this office
Sophomore Class (3 positions available)
Martin Chavez Jr. -- 160 votes or 89% of students voting on this office
Write-In Votes -- 19 votes or 11% of students voting in this office
Pardeis Hedari -- 3 votes or 2% of votes on this office
(1 position remains vacant until fall election)