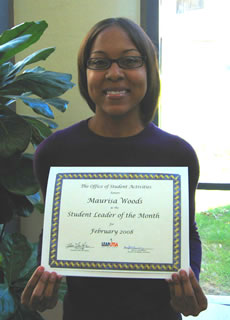 Maurisa Woods
Maurisa Woods named Student Leader of the Month
By John Kaulfus
Associate Dean of Students
(March 11, 2008)--The UTSA Office of Student Activities announces Maurisa Woods was named the UTSA Student Leader of the Month for February 2008. She was nominated by Ann Margaret Trujillo, associate director of the Inclusion and Community Engagement Center.
---
Today's headlines
Article tools
---
In her nomination letter, Trujillo said, "Ms. Woods is an outstanding student leader. She is currently the president of UMOJA: The Black Student Network and is a member of the Psychology Club, Women of Honor and the University Center Advisory Board. Ms. Woods served on the planning committee and was one of the emcees for the fourth annual Black Heritage Ball. She also was one of seven students who represented UTSA at the Southwestern Black Student Leadership Conference in January 2008. In addition, Ms. Woods helped to coordinate many of the events that were presented as part of Black History Month 2008."
"Under Woods' leadership, UMOJA sponsored or co-sponsored many events during Black History Month including Black AIDS Awareness Day, How to Start a Small Business, Coffeehouse, Soul Food Extravaganza and the Black Music Celebration. Each event required a great deal of planning and organization. Ms. Woods was able to seek participants and volunteers and also contributed much of her own time to make each event successful."
"Ms. Woods has proven to be a responsible, reliable and dedicated leader. She works to keep members of the organizations with which is involved motivated and is not shy to hold people accountable for their actions. She is an ethical leader with great vision and great promise."
The Student Leader of the Month Award is sponsored by the Office of Student Activities to recognize outstanding leadership contributions of UTSA students. Nominations are made through the Office of Student Activities Web site and must be submitted by the fourth Thursday each month.
Nominees must meet these criteria:
Full-time UTSA undergraduate or graduate student
Cumulative grade point average of 2.25 or higher at time of nomination
Demonstrated excellence in leadership above and beyond typical expectations
Demonstrated actions that positively impact the UTSA community
------------------------------
For more information, visit the UTSA Office of Student Activities Web site, call (210) 458-4740 or e-mail John Kaulfus.