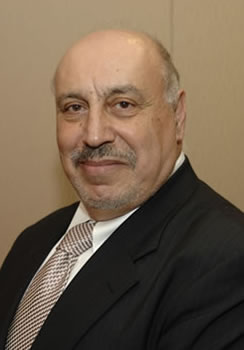 Miguel Jose Yacaman
Physics and astronomy department names chair
By Kris Rodriguez
Public Affairs Specialist
(March 26, 2008)--Miguel Jose Yacaman, a world-renowned authority in the field of nanotechnology, has joined The University of Texas at San Antonio (UTSA) to chair the Department of Physics and Astronomy in the College of Sciences. Yacaman joins UTSA after serving seven years at The University of Texas at Austin.
An author of four patents at the University of Mexico and UT-Austin, Yacaman received over the last six years more than $8.1 million in grant funding for nanotechnology research. He also has been cited more than 3,500 times and has more than 330 review papers or book chapters authored among scientific literature.
"Dr. Yacaman joining our faculty leadership team is terrific news for UTSA students and the San Antonio scientific community," said UTSA Provost John Frederick. "Under his leadership, UTSA is one step closer to reaching our goal of becoming a Top 100 premier research university."
Yacaman has trained more than 50 post-doctoral, doctoral and master's degree students in his laboratories who have gone on to become leaders in some of the nation's top scientific and engineering companies.
"I am very excited to be joining UTSA and will continue my efforts to try and connect with as many Hispanic students as possible," said Yacaman. "I strongly believe that the future of this part of the nation is strongly correlated to the education of the Hispanic population."
Before serving at UT-Austin, Yacaman directed the National Institute of Nuclear Research and was deputy director for scientific research at Mexico's National Council for Science and Technology (CONACYT). In addition to his role as an educator, Yacaman also was a consultant for the Mexican Petroleum Institute, Pemex Oil Company, General Motors Research Labs and Exxon Research Corporate Labs.
"I would like to lead the department to strive for excellence in research and teaching at both the undergraduate and graduate levels," said Yacaman. "I would also like the department to take advantage of programs aimed at supporting minority-serving institutions and fostering more collaborations with researchers in Latin America."
Yacaman's awards include the Profesor Distinguido Universidad Autonoma de Nuevo Leon (2003), CONACYT Investigador Nacion de Excelencia (2002), the National Prize of Science in Mexico (1992) and a Guggenheim Fellowship (1988).
He serves on the editorial boards of the Journal of Nanostructured Materials, Catalysis Letters and Microscopy and Microanalysis and is the associate editor of Scripta Metallurgica and Acta Metallurgica, Microscopy Research and Techniques and Revista Iberoamericana of Materials.
Yacaman received a bachelor's and master's of science degrees in physics and a doctorate in material science from the National University of Mexico in Mexico City. He received postdoctoral experience at the University of Oxford's Department of Metallurgy and Materials Science and as a research associate in the materials science branch at the NASA Ames Research Center in Moffet Field, Calif.
Serving more than 5,000 students enrolled in nine undergraduate degree programs and 15 graduate programs, the UTSA College of Sciences is uniquely poised to prepare the next generation of scientists for careers in business, technology and academia. The college houses six departments: biology, chemistry, computer science, geological sciences, mathematics, and physics and astronomy.