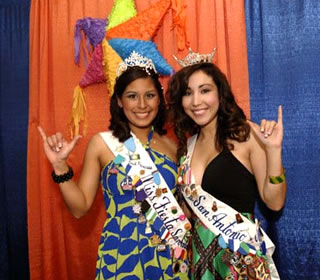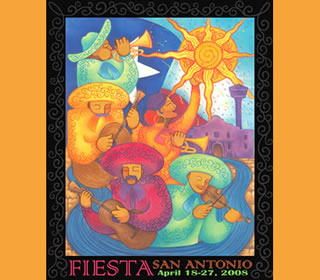 Top photo: UTSA students: Miss Fiesta San Antonio First Princess
Jenny Cook (left) and Miss San Antonio Priscilla Garcia show
their Roadrunner at Fiesta UTSA.
Middle photo: Fiesta San Antonio poster designed by UTSA alumna
Cecelia Paz Mujica
Bottom photo: Rehearsal of UTSA Briefcase Brigade
UTSA joins Battle of Flowers parade April 25
By Tim Brownlee
Assistant Director of Public Affairs
(April 23, 2008)--Faculty and staff members from the UTSA College of Business will perform as "The Briefcase Brigade" at 12:45 p.m., Friday, April 25 in the Battle of Flowers Parade as part of Fiesta San Antonio. The parade begins at 12:45 p.m. and winds through downtown.
>> View a YouTube video of a UTSA Briefcase Brigade rehearsal.
---
Today's headlines
Article tools
---
Additionally, Mr. and Ms. UTSA Daniel Bernal Jr. and Jessica Beamer and four members of UTSA's Mariachi Los Paisanos will participate in the parade on the UTSA float.
One of the nation's premier festivals, Fiesta San Antonio is April 18-27. The citywide celebration includes more than 100 events and is the biggest party and greatest community benefit in Texas. Visit the Fiesta San Antonio Web site for information on events and the parade route.
Seating for the Battle of Flowers parade is $15 for Alamo Grandstands, Cenotaph Stands, Alamo Street Bleachers-North (Travis/Houston), Alamo Street Bleachers-South (Crockett/Commerce) and Plaza Bleachers; and $12 for Maverick and Broadway Bleachers.
Tickets are available at The Fiesta Store, 2611 Broadway. For street chair information, call (210) 227-5191 or visit the Fiesta San Antonio Web site. For parade information, visit the Battle of Flowers Web site.
------------------------------
About the Battle of Flowers Parade
(from the Fiesta San Antonio Web site)
The first Battle of Flowers Parade was in 1891 to honor the heroes of the Alamo and to commemorate the Battle at San Jacinto, April 21, 1836, where Texas won its independence from Mexico. Despite rain that postponed the parade for four days, a group of determined San Antonio women made the colorful "flower battle" a success.
The parade has entertained San Antonio every year except during World Wars I and II and is recognized as the founding event of Fiesta San Antonio. The parade was the first major celebratory event to take place on Alamo Plaza. It is sponsored by the Battle of Flowers Association, a nonprofit and women's civic organization chartered in 1914 to celebrate Texas history. Remembering the heroes of the Alamo has remained the focus of the parade, and participants are asked to bring a floral tribute to be placed on the lawn in front of the Alamo.
The theme of this year's parade is "Broadway... and all that jazz!" Enjoy toe tapping fun from Broadway in New York City to the fiddling fandango of Broadway, San Antonio.